The Recreation Center Sun City (RCSC) Board of Directors has decided to repair the sundial monument at the corner of 103rd Avenue and Boswell Boulevard [in Sun City, Arizona].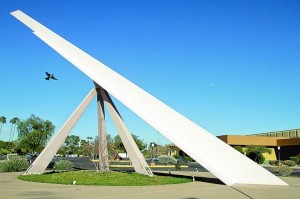 At this time, it is impossible to know an exact repair cost until further inspection can be made below the surface. We do know that the three steel supports at the foundation must be repaired to restore the steel supports' structural capacity to ensure further deterioration does not occur.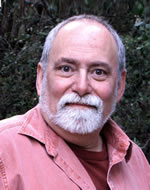 Gino and Judith Schiavone, members of the North American Sundial

Society, are winners of the City of Bowie sundial contest to build and install a dial in front of the New City Hall under now construction. The value of the project is $90,000. Completion is expected in Oct 2010.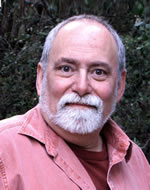 Gino Schiavone: After studying Liberal Arts at Loyola University and Fine Arts at Chouinard Art Institute in Los Angeles I began a career of what I called "making wonderful things." Some thirty years ago I happened upon some books about sundials at a library. This happy accident changed my life. These books introduced me to the wide range of sundials and methods for their design. I was enthralled and inspired; I was in love. I decided to make fine sundials and embarked on a new course of study.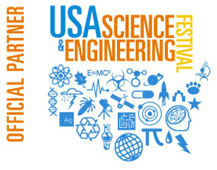 NASS and the Analemma Society, inspired by the success of the 2010 USA Science and Engineering Festival, are registering for the Festival on the Washington D.C. Mall. The event, supported by volunteers from both NASS and the Analemma Society is scheduled for the Spring of 2012.
NASS and the Analemma Society will have a booth to teach families and children how to make sundials and read sundial time with the theme: Sundials, the Worlds Oldest Clocks.
We expect the return of many of the sundialist volunteers that supported the 2010 Festival. For the coming year, we expect to improve our educational goals beyond the popular "Great Sundial Cutout." What else is in store? Stay tuned as we formulate our educational material. Have and idea? Please send an email toRobert Kellogg
For more information on all Festival events and how you can get involved, visit www.usasciencefestival.org.