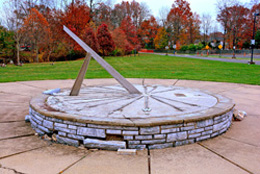 The North American Sundial Society likes to record public sundials that are in good or excellent condition. Dial #797 in Cranford, New Jersey is a sad exception. In 1972 the Kiwanis Club of Cranford presented a 15-foot diameter sundial to Union College as an expression of interest in the college and the youth of Cranford. But the years have taken a toll where it sits adjacent to the William Miller Sperry Observatory. The dais stonework mortar has given way and the concrete dial face has deteriorated.

A plan to restore the dial is underway. Dr. Stephen D. Nacco, of Union County College, Vice President, Administrative Services & Executive Assistant to the President set up a Sundial Fund under the Union County College Foundation, a 501(C ) 3 not-for-profit organization. Donations can be made online via the Web Site, http://www.uccfoundation.org/give.html with the donor selecting GIVE ONLINE NOW. Choose Donation Type "Other", and then put "Sundial" in the Additonal Comments Area as the reason for the donation.
Checks can be made out to:
Union County College
Sundial Fund
1033 Springfield Avenue
Cranford, NJ 07016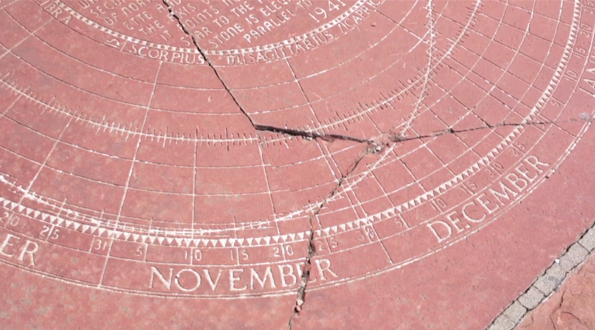 Damage to Erickson Equatorial Sundial in Cranmer Park, Denver, CO. Photo Credit: Save Our Sundial
What happens to old sundials? In Denver, citizens of Cranmer Park are taking matters into their own hands. The City of Denver has generously committed $545,000 to the restoration of the Cranmer sundial and plaza through the Parks and Recreation and the Arts and Venues departments... but the citizens must raise another million dollars.