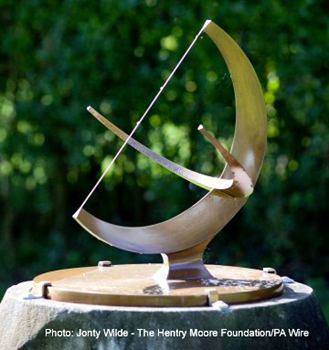 Update: On Saturday July 22nd, less than two weeks after the Henry Moore sundial was stolen, it was recovered by detectives after receiving tips from the British Crimewatch television series. Three young men, all from Essex, have been arrested on suspicion of two counts of theft and are currently in police custody.
Read about it at: http://www.artlyst.com/articles/stolen-henry-moore-bronze-sundial-recovered-three-arrested-in-essex
Story: On the 10th of July, 2012 was another significant sundial loss. A 22-inch bronze equatorial dial designed by the famous British sculpture Henry Moore was stolen from the grounds at the Hertfordshire museum in Much Hadham, UK. Police are appealing for any information.
Is it now the part of someone's private collection? In 2005 thieves stole a Moore bronze statue "Reclining Figure" from the museum. The statue weighed 2 tons, requiring the thieves to use a crane for its removal. Then in 2010 other thieves stole a Moore sketch called "Three Reclining Figures On Pedestals" along with other artist paintings from the Trinity House Paintings on Broadway High Street, Worcestershire.
Because of Henry Moore's fame as a sculpture and artist, the sundial is valued at £500,000. The small dial built in 1965 was a model for a much larger dial that now resides in Germany. Read about that dial in the forthcoming North American Sundial Society article in The Compendium coming out in this September's quarterly issue.