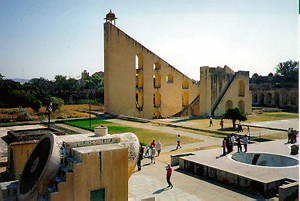 Sudhanshu Mishra reports in Mail-Online-India that the World Heritage Site at Jaipur, the Jantar Mantar astronomical observatory is in severe decline because of neglect.
Maharaja Sawai Jai Singh, also known as Singh II, directed several the building of a astronomical observatories at Ujjain, Varanasi, Jaipur, Mathura, and Deli. From his research, Jai Singh II concluded that accuracy of observation could only be obtained with large, stationary instruments. The giant Jaipur observatory consisting of 16 different instruments took 15 years to build and was completed in 1734.
Most famous at Jaipur is the Brihat Samrat Yantra (translated as "large sun instrument") a giant equatorial sundial with a polar gnomon height of 89 feet 9 inches. It's thickness of 8 feet is wide enough for a stairway to the top. The overall dimension of this dial occupies a square 146 feet on a side to hold not only the gnomon but the equatorial band, called the Zodiac Circle (Rashivalaya), for reading the sun's shadow to a phenomenal accuracy of 2 seconds of time. [1]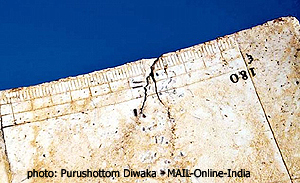 But the equatorial circle has worrying fractures and chemical treatments may have hastened structural disintegration. According reports in Mail-Online-India, "Superintendent of the Jantar Mantar, Om Prakash Sharma, said the matter of cracks and decay came to notice only recently and corrective measures would be taken soon." "Jodharam Babar, deputy director in the state's archaeology and museums department, said the matter would be referred to experts before any corrective measures are taken."
And to date, indeed, no action has been taken. India is letting the world's largest sundial, a World Heritage Site, disintegrate before our eyes.
---
[1] Brandmaier, H. "Famous Sundials of India", North American Sundial Society's The Compendium, Vol. 2 Nr. 4 pp. 4-9, Dec. 1995