The Recreation Center Sun City (RCSC) Board of Directors has decided to repair the sundial monument at the corner of 103rd Avenue and Boswell Boulevard [in Sun City, Arizona].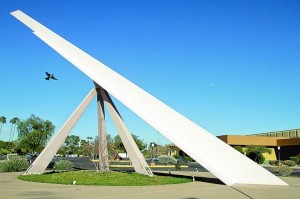 At this time, it is impossible to know an exact repair cost until further inspection can be made below the surface. We do know that the three steel supports at the foundation must be repaired to restore the steel supports' structural capacity to ensure further deterioration does not occur.
Whereas the preliminary cost estimate to remove the sundial is approximately \(17,000, the preliminary cost estimate for repair is roughly \)50,000. This is an unbudgeted expense, but several individuals have said they are willing to lend a monetary hand to help fix the sundial.
All donations earmarked for the sundial repairs should be made through the Sun City Foundation at 10626 W. Thunderbird Blvd., Sun City, Ariz. 85351. All donations to the Foundation are tax deductible. No timeline has been set for repairs, but the monument will be shored up in the near future to provide stability and the area will be fenced off for safety reasons.
The sundial monument has marked the location of Sundial Recreation Center at the corner of Boswell Boulevard and 103rd Avenue since the center opened in April of 1973 and will remain doing so for many years to come.