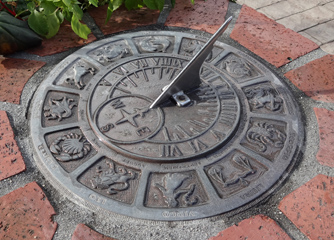 Dr. Jessica Warren, lecturer of physics and astronomy at Indiana University Northwest, is active in science outreach and education. She is also passionate about sundials. For Indiana University outreach shecreated a video "The Garden Sundial - Much More than an Ornament" that presents a brief history of the sundial, how they work, and where to get one or make one.
You can watch the video on YouTube at https://www.youtube.com/watch?v=K10nPV69Q1A. It is also part of the North American Sundial Society library of videos, found on this website at https://sundials.org/videos/making-and-using-sundials.html where NASS has a collection of videos on sundials, timekeeping, and interviews with sundialists on how they make sundials.
At the end of her presentation, Dr. Warren provides a list of reference material about sundials. Her entire video including references is available as a PDF and is available for download at the bottom of this article. Additional references and sundial topics are available on the NASS sundial links page: https://sundials.org/dial-links/general-sundial-links.html. Read more about the fascinating world of sundials.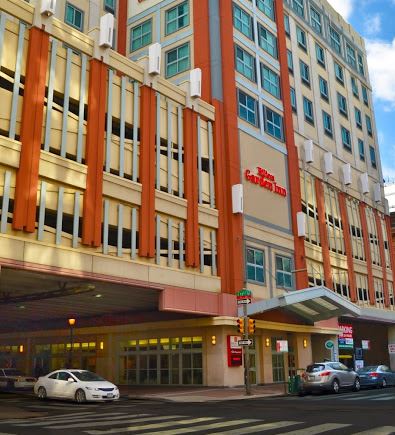 Register now for the 26th Annual North American Sundial Society Conference. This conference has been two years in the making. The conference will convene in Philadelphia on Thursday afternoon (4:30 - 6:30) Aug 5th, with the opening reception, introductions and door prizes. Friday, we will tour local sundials via coach bus – please plan to be masked. Saturday is slated with a full day of speakers. We will continue on Sunday (until about 1:00pm) with more speakers and the NASS annual general meeting. Stay for the entire agenda Aug 5th-8th.
The conference will be held at the Hilton Garden Inn, Philadelphia Center City, 1100 Arch Street, Philadelphia PA 10107. You may want to plan to spend an extra day or two in Philadelphia as the hotel is within walking distance of Independence Hall, The Liberty Bell, The Benjamin Franklin Museum, The Museum of the American Revolution, Declaration House, The National Constitution Center and the Betsy Ross House – just to highlight a few of your options, assuming they have reopened by August.
As always, we will have a full schedule of interesting talks and exhibits and a day of touring local sundials. We have planned a route to see a dozen or so sundials, but some are on college campuses that may not yet have reopened to the public! We're working on it. If you have sundials, photos, books, etc. that you would like to display, please let NASS know (This email address is being protected from spambots. You need JavaScript enabled to view it.) so that we can arrange to have table space available. We will try to allocate ½ table per display. Plan to bring your interesting sundial projects for others to see and become inspired.
We have two registration plans: Full and Partial. Note that meals on the Partial Option are only for the Thursday Reception refreshments, Friday Tour Lunch and Saturday Conference Dinner. The Partial Option does not include admission to the general sessions.
Interested? Download the Registration Form below. Register now and get a discount until June 1st. Instructions for making reservations at The Hilton Garden Inn are included in the Registration Form.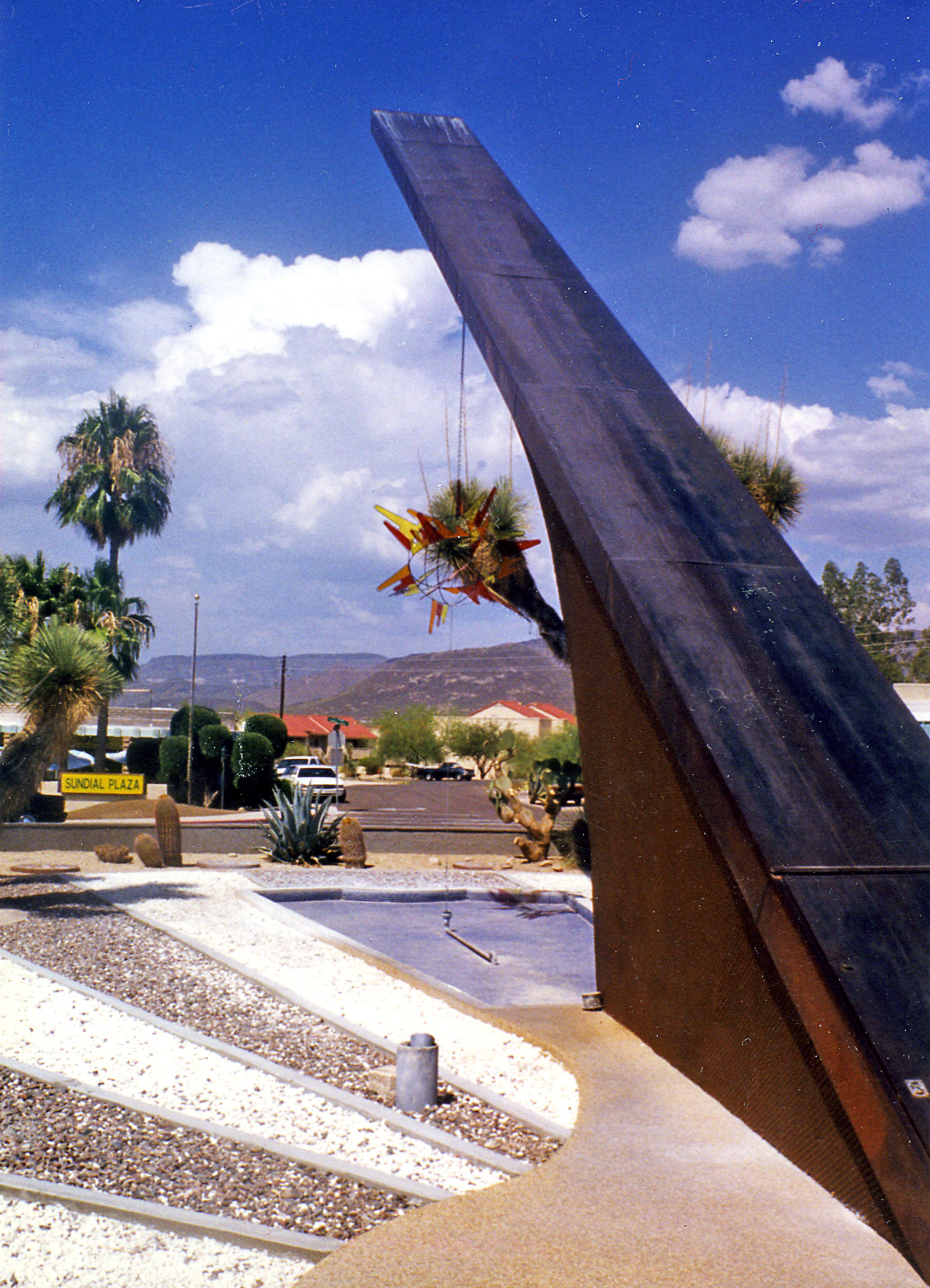 The first sundial in the NASS Registry is the dial from Carefree, Arizona. This 35 foot tall dial was designed by architect Joe Wong and solar engineer John Yellott and when built in 1959 was considered the second largest sundial in the world. You can see in the accompanying photo that hanging midway along the sundial's gnomon is a garish colored ball, a "Sunburst". [It is partially hidden by a background palm tree.] This structure was part of the original design. From the on-line Carefree City SunTimes, editor-in-chief Kathryn Miller brings us the story of its origin, demise, and now its restoration. The seven-foot wide wrought iron Sunburst has not been on the gnomon for the last 20 years. From Miller's article, "As the story was told by Carefree Vice Mayor John Crane in his March CITYSunTimes column, "The Joe Wong designed Sunburst enjoyed a short life. In 2004, when the Sunburst was determined to be beyond repair it was donated to the Cave Creek Museum where it resided outside for many years."
Eventually the museum returned the rusting icon to the City of Carefree, ending up in the Town garage. Miller's article now reports it's restoration that was completed in March 2021: "...[Back in] 2019, a Carefree resident, who prefers to remain anonymous, took it upon himself to return this misplaced, but not forgotten, historic and iconic art piece to its rightful place. Now, a reincarnated Sunburst, dimensionally identical to the original, but with improved design and modern materials, holds a place of honor in the Town center, once again celebrating the desert sunshine and casting its glow beneath the Sundial."
Perhaps an indicator of the times with the urge to turn night into day, this Sunburst that hangs on the gnomon is now electrified and illuminate with LED lights, blending in with the LED lighting of surrounding cactus in ithe plaza.

Want to travel? Want to see sundials? Well, you can do both by taking a virtual tour of the Galileo Museum (Museo Galileo) in Florence, Italy. Beside showing you detailed sundials, astrolabes, and quadrants in their collection, they host a series of short 2 minute videos on sundials and many other topics.
This is a fun virtual site to explore: https://catalogue.museogalileo.it/ Here you can read about the biography of Galileo or many other famous scientists or you may want to browse many of 1000 astronomical instruments in their collection, or watch a video on Galileo's astronomy or see how the the heavens can be seen in the armillary sphere sundial, or consider the history of the lightning rod with a demostration of gunpowder blowing apart a small wooden house (called a "Thunder House") that doesn't have one.
There are many short videos about sundials and astrolabes. And of course there is the Monumental Sundial at the entrance to Museo Galileo. Click here to watch a short animation of how this gnomonic sundial works. The Museum has many of these instructional videos. Be sure to visit their video catalogue: https://catalogue.museogalileo.it/index/VideoIndexByThematicArea.html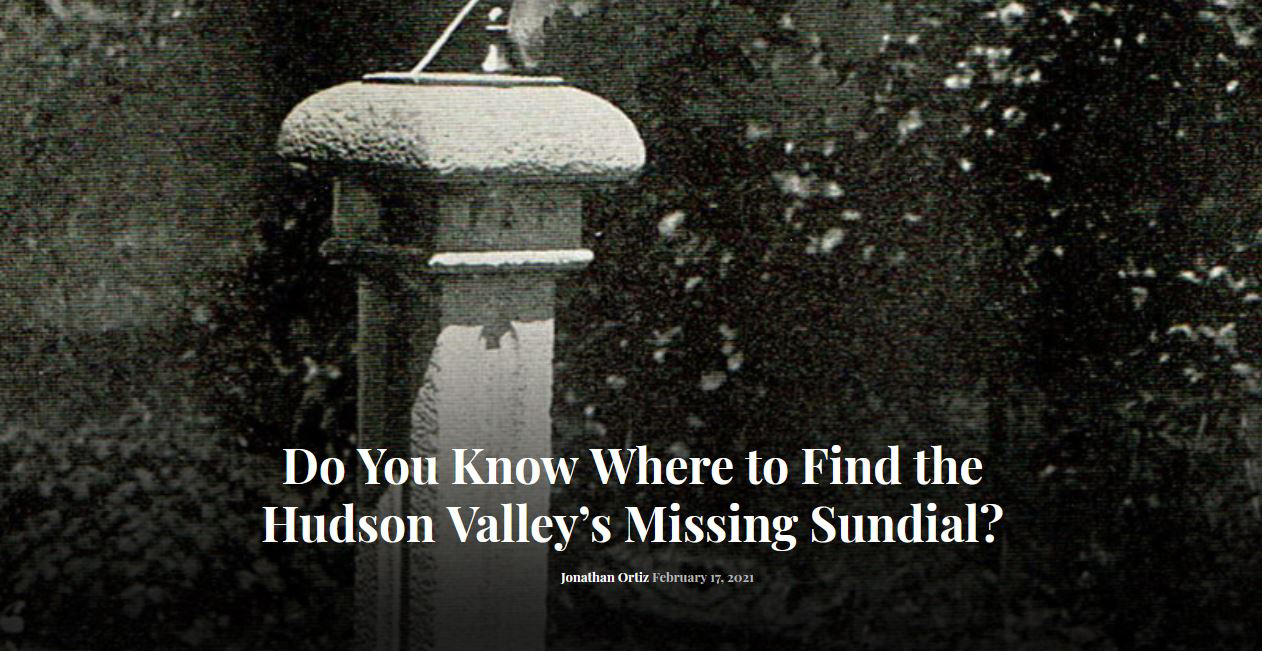 Photos courtesy of Kevin Franklin unless otherwise noted
This article is reproduced by permission from Hudson Valley on-line magazine of Feb 17,2021 and can accessed directly at https://hvmag.com/life-style/history/missing-sundial-hudson-valley-hillside-dean-sage/ It was written by Jonathan Ortiz with information from NASS/BSS member Martin Jenkins and fellow researcher Kevin Franklin.
Menands' village historian dives headfirst into the past to discover the whereabouts of a sundial that once resided at the Hillside estate in Albany County. There's a mystery to solve in the Hudson Valley. It involves a cast of unlikely players: a local historian, a British society, a wealthy Albany County businessman, and a famed Scottish novelist.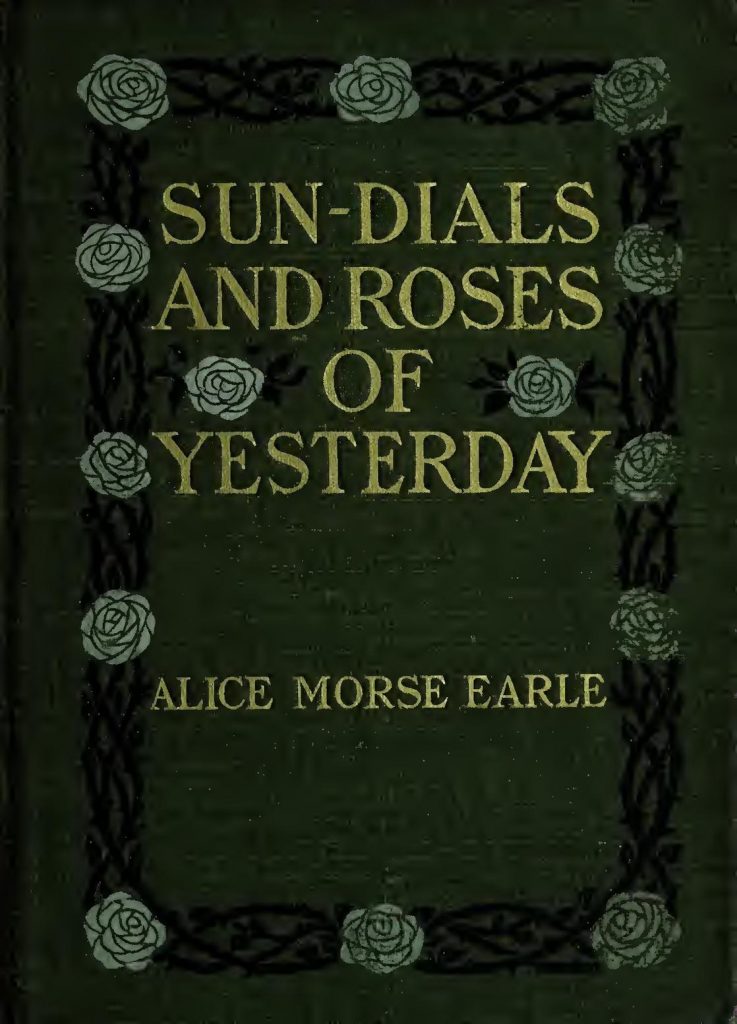 Sun-Dials and Roses of Yesterday / Wikimedia Commons
The object of their attention? A missing sundial. Its last known whereabouts are the estate of Dean Sage, in Albany County's village of Menands, which lies inside the Town of Colonie; however, this conundrum begins much, much farther away — in Scotland, to be exact.
"It's a trans-Atlantic mystery," says Kevin Franklin, Menands' village historian and a former Menands police officer.
In 2020, Franklin was contacted by Martin and Janet Jenkins, two members of the British Sundial Society. They sought information about Hillside, the former Albany County estate of Dean Sage, son of Henry W. Sage of famed lumber firm H.W. Sage Co. fame. Hillside is located on the north side of the Menand Road (now State Rt. 378).
Interestingly enough, their purpose in finding this sundial makes the story ever more complicated. The device once located in Menands is actually a replica of another sundial from the Abbottsford estate of famed Scottish writer Sir Walter Scott. Now, there stands only a pedestal upon which the original sundial once sat.
"It is not known what the Scott sundial looked like," writes Martin Jenkins in a letter to Franklin. "If the replica sundial made for Hillside could be traced, then a replacement replica could be made for Abbotsford in Scotland, the pillar then no longer standing silent and unadorned."
Several books make reference to both the original sundial and the replica. Most recently the March 2019 edition of the British Sundial Society Bulletin by Denis Cowan refers to the fact that a replica sundial was made for "Hillside, Menands, NY." The 1902 edition of Sun-Dials and Roses of Yesterday by Alice Morse Earle shows the replica sundial to be in existence at Hillside, in the Shakespeare Garden border. In Ye Sundial Booke by T. Geoffrey W. Henslow in 1914, there are two sketches, one showing the sundial pillar at Abbotsford, Scotland, and the other depicting the replica sundial at Hillside.
Lastly, in The Book of Sun-Dials, the author Margaret Gatty apparently made her sketch of the sundial pillar at Abbotsford in 1839, but, by then, the sundial was missing — more than likely stolen.
Despite extensive documentation, many questions remain. What was the connection between Sir Walter Scott and Hillside? Who commissioned the Hillside replica? And, most importantly, what happened to the replica?
It was here that Franklin picked up the trail, starting with the local angle: Dean Sage.
"The Sages were immensely wealthy," explains Franklin. "Their wealth evolved around the exporting of lumber from the Michigan area across the Erie Canal to the 'Lumber District' of Albany."
Researching Sage's background did reveal one important fact, and the potential connection between him and Scott: Sage was both a bibliophile and an avid fisherman.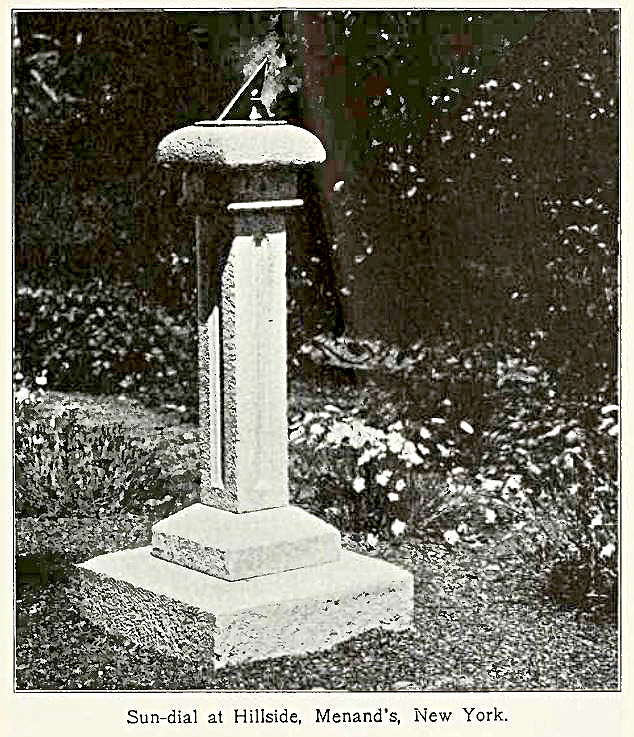 Replica of Sir Walter's Sundial | Photo by Alice Morse Earle, public domain
He wrote the famous fly fishing book Ristigouche and Its Salmon Fishing in 1888. It was published by David Douglas of Edinburgh, whose name also appears in Sun-Dials and Roses of Yesterday. There, it is stated that Sage's replica sundial was, "commissioned by the publisher Douglas."
Douglas has another publisher's credit — in The Journal of Sir Walter Scott. Scott kept a daily journal from 1827 until his death in 1832. These journals were published in 1890 by the very same Douglas who published for Sage.
While Sage, born in 1841, could never have met Scott, who died in 1832, it is well known that Abbotsford is on the banks of the River Tweed and has been famous for salmon fishing since Roman times. The Tweed Commissioners whose responsibility it was to manage the river and its fish was set up by Scott in 1805. It seems likely that Dean Sage visited Abbotsford at some time as part of his salmon fishing interest.
"It would not be beyond the realm of imagination for Dean Sage to have gotten either a sketch or drawing, maybe even a photograph, of this sundial at least the base that still remains at the Abbottsford and had that duplicated," explains Franklin.
The final question remains: Where is the Hillside sundial?
Mr. Franklin continues to follow up with past residents of the area and any leads which would help locate the missing sundial of Hillside.
Have any info on the missing Hillside sundial? Send any information or clues to this local mystery to This email address is being protected from spambots. You need JavaScript enabled to view it., or directly to Kevin Franklin at This email address is being protected from spambots. You need JavaScript enabled to view it..
[You may also send any information to the North American Sundial Society, at This email address is being protected from spambots. You need JavaScript enabled to view it. ]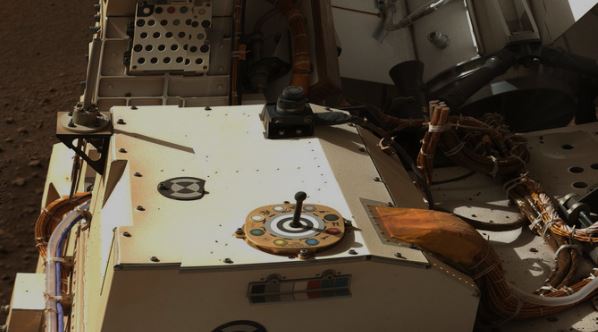 Everyone is excited about the landing of Perseverance, the Mars rover. If you look closely at the first panorama of the Martian landscape you will see on the equipment bay of Perseverance the Mastcam color calibration target. It sort of looks like it could be a sundial. In 2004 a similar calibration target was used as the first Martian sundial, designed by Dr. Woody Sullivan and Jim Bell with the support of The Planetary Society and Bill Nye, "The Science Guy" [See PDF at bottom]. Is the Mastcam color calibration target a sundial as well? Here is Dr. Sullivan's answer to a group of sundial enthusiasts (2/25/2021):
"The short answer is "No". The longer answer follows. The new object on Perseverance (officially the "photometry calibration target") has obvious similarities to the Mars dials on Spirit and Opportunity that landed in 2004, and in fact it is a technological and aesthetic "grand-daughter" 17 years later. (The intervening generation is the Curiosity rover, which landed in 2013 and is still alive). The Mars dials that a small group of us designed and fabricated and then occasionally "used" to read Martian time were a great experience for me.
"But after over a decade of Spirit and Opportunity, I decided not to get involved in any future NASA missions — they gobble up a lot of time! The science and fabrication of the new calibration target (as for Curiosity) is led by a group at U. of Copenhagen.
"Nobody has ever done anything with the orientation of the shadows cast by the "gnomon" on Curiosity and I'm sure nobody will for Perseverance either. By the way, independent of gnomonics, the vertical tube has a vital scientific purpose: its shadow on the gray and colored patches allows one to calibrate camera images properly in shadow as well as sunlight.
"The various symbolism and messages on Perseverance also stem directly as heritage from Spirit and Opportunity . You can find a tremendous amount of detail about all aspects of the Perseverance cal target (including construction) at https://mastcamz.asu.edu/mars-in-full-color/ [See PDF at bottom]. The feature I like best is the motto "Two Worlds, One Beginning", which nicely refers to Spirit and Opportunity 's "Two Worlds, One Sun" as well as early solar system history and the possibility of early life on Mars. (Curiosity has the terrible motto "To Mars to Explore".)
"Nevertheless, I watch the procession of missions with great astrobiology interest. And someday I will write up the whole Mars dial experience, including many Martian landscape images in which it appears, and how a student and I were actually able, using its shadow, to measure the Martian analemma at local mean ("clock") noon over a Martian year ( = 1.9 Earth years).
— Woody Sullivan
Prof. (Emeritus) Woodruff T. Sullivan, III
Dept. of Astronomy & Astrobiology Program Box 351580
University of Washington
Seattle, WA 98195 USA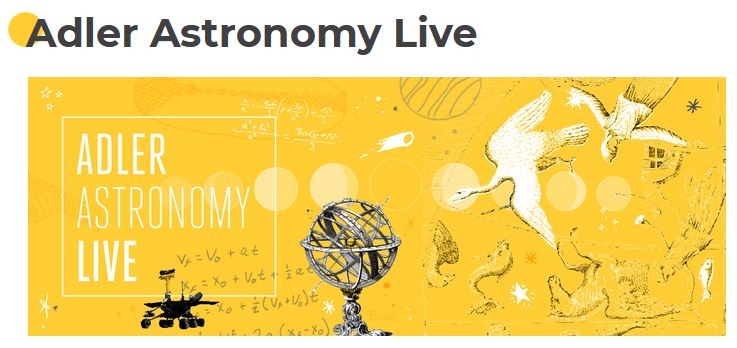 Every Thursday at noon central time the Adler Planetarium presnts "Adler Astronomy Live" with a variety of interesting topics and speakers.
On Thrsday Oct 8th, 2020 the series presents Dr. Sara Schechner on the topic of Time, Culture, and Social Change. As the Adler website states:
"The Adler Planetarium has the best and most comprehensive collection of sundials in North America. Sundials played a central role in shaping people's sense of time, and show how the latter has been influenced by their culture, politics, religion, labor, society, and geography throughout the ages. Join us for a conversation with Dr. Sara J. Schechner, author of Time of Our Lives: Sundials of the Adler Planetarium, on some of the most spectacular sundials in the Adler's collections and their stories. Set a reminder on YouTube"
Dr. Schechner is an engaging speaker with a wealth of experience in historical instruments and has a passion for sundials. Adler has recently published the beautifully illustrated book Time of Our Lives: Sundials of the Adler Planetarium. The North American Sundial Society helped underwrite the production of this book, nearly a decade in the making.
To hear the presentation live or in recording after the event, go directly the Adler's YouTube channel to find the presentation at: https://www.youtube.com/adlerplanetarium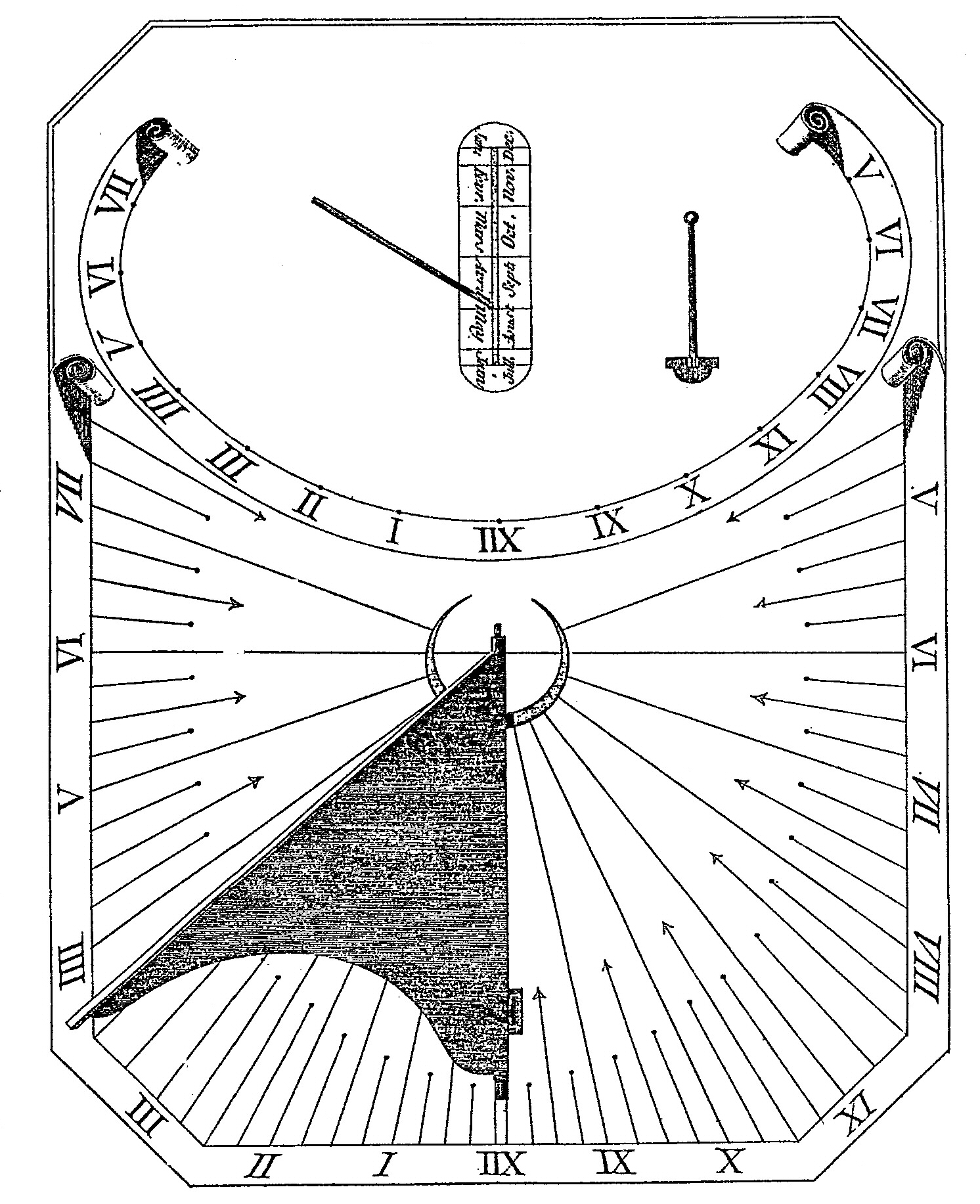 Drawing of Horizontal and Analemmatic Sundial
"Analemmatic or Azimuthal Dial"
J.J. de LaLande 1784
The Analemmatic Sundial SourceBook was first published in 2004, revised in 2014, and now is again available in digital form on CD or by download from the north American Sundial Society. What is it? It is a very comphrehensive reference to the origins, history, and modern evolution of the analemmatic sundial compiled and edited by Fred Sawyer III, President of NASS.
It started with J.L de Vaulezard publishing a small work of 15 pages in 1640 descibing the dial in vague terms, promising to reveal its construction later "if I see that the work has been well received by you...." Four years later de Vaulezard published his "Treatis of the origin, demonstration, construction and usage of the analemmatic dial". A decade later Samuel Foster published "Elliptical or Azimuthal Horologiography" further describing the analemmatic sundial. The SourceBook reprints a facsimile of this and three other of Foster's original works.
The Historical Period includes not only the works of de Vaulezard and Foster but works by Aubri, Tuttell, Richer, Parent, Bion, Lalande, Bedos de Celle, Lambert, Oberreit, Boutereau, Meikle, Perret, Peaucellier, Viala, Lisbonne, Gruey, Marchand, Roguet and Chomard. For over 250 years these authors provide the earliest proof of the analemmatic dial, the introduction of the Foster/Lambert, diametral, and Parent variations, as well as many important historical and theoretical discussions of the analemmatic dial and its properties.
Study of the analemmatic sundial had a revival at the turn of the 20th century and again beginning in 1986 with the publication of "Equator Projection Sundials" by de Rijk. Other articles include R.J. Vinck's "Times of Sunrise and Sunset on the Analemmatic Sundial" further descriptions of seasonal points by Bailey and Sonderegger. Vinck's "The Elliptical, Circular and Linear Dials" detailing of the mathematical foundation of a whole class of azimuthal sundials with examples of strange looking sundials by Sawyer, Olgesby, Gianni, Massé, Sassenburg, Sonderegger, and Rouxel.
Fred Sawyer III has a number of articles within the Analemmatic SourceBook, including "Of Analemmas, Mean Time and the Analemmatic Sundial", "Foster's Diametrical Sundial", and many more.
The Analemmatic Sundial SourceBook provides a rich historical and mathematical account of the Analemmatic Sundial and its modern derivatives. Order yours today by clicking here: NASS Publications Order Form
Open the "Read More" to see the detailed contents