Membership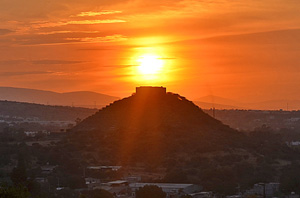 Pyramid of El Pueblito, Corregidora,Mexico
photo by Ruben Nohuitol
Join or Renew your membership in NASS and receive your quarterly issues to The Compendium and keep up with sundial construction, history, and events.
Want to know what's in The Compendium? Take a look at sample issues and see the convergence of history, art, and mathematics. Annual membership in the North American Sundial Society includes four issues of The Compendium, available in print, CD-R discs, or down-loadable digital editions. Since June 2010, the print edition comes in full color, while the CD-R and digital editions not only come in digital color, but from time to time offer software features and other bonus material not available in print.
The Digital Compendium is available in PDF format by Internet download or on a CD-R disc sent via postal mail. PDF documents can be read using Adobe Reader or other PDF applications such as PDF Complete. NASS membership and subscription can be made for one or two years, now using worldwide rates.
The Compendium
The easiest way to enjoy The Compendium is to select the digital download edition, which requires a pdf reader or comparable software. Mac users can access the issues (primarily pdf files) but may not be able to use the digital bonus items which are generally made for Windows PC devices. The electronic digital download edition will be available from this website. Notification of the availability of the download version and how to access it will be sent by email.
The digital edition is also available on a CD-R disk if "CD" is selected below. This is mailed to your address. Again note that the digital bonus items are generally made for Windows PC devices.
In print form, The Compendium will be sent as a 6" x 9" paperback book averaging 78-80 (acid-free paper) pages each quarter. The text and corresponding drawings are made for easy reading. The page size allows The Compendium to appear similar whether in print, CD, or electronic version with full pages viewing on most computer screens without scrolling.
Membership Rates
Our members outside of North America have paid an additional charge for shipping the print edition. With our new format and printer, The Compendium will actually be printed at different locations around the world, with a general reduction in cost of shipping. As of the biginning of 2021 NASS has moved to a single worldwide membership fee structure. Whether you subscribe to the Print, CD or Download edition, the US Dollar cost of membership will not depend on where you live. And that cost will be the same as North American members currently pay.
Please Note - New Rates Coming
Effective January 1, 2023, all NASS Membership options that include the Print Issue of The Compendium will increase in cost by $2/year. This small increase after several years of level fees will partially offset the increasing costs of printing and shipping. If you wish to avoid this increase, you may join or renew at the current rates, provided your payment is received before January 1, 2023. If it is not yet time for your renewal, and you update now, your membership will simply be extended to your current renewal date.
Join or Renew you Membership to the North American Sundial Society. We offer 1 or 2 year membership with a variety of ways to receive our Quarterly Journal, The Compendium.
| | | |
| --- | --- | --- |
| Rates Until Jan 1, 2023 | WORLDWIDE | |
| | 1-YR | 2-YR |
| Membership & Digital Compendium by Download | 20 USD | 38 USD |
| Membership & Digital Compendium on CD | 25 USD | 48 USD |
| Membership & Print Edition of the Compendium | 50 USD | 97 USD |
| Membership with both Print & Download Compendium | 55 USD | 107 USD |
| Membership with both Print & CD Compendium | | |
Payment
Payment can be made by check from a US Bank or credit card using PayPal...No need to have a PayPal account. Because of the world-wide single rate, we have discontinued the option of paying in British Pounds. If you chose not to use PayPal, provide your membership & Compendium option, name, full address, email, phone number and please, your latitude and longitude. Make your check to NASS from a US Bank and send it to:

NASS Join or Renew
27 Ninas Way
Manchester CT 06040 USA
Updated 1 Sep, 2022
1-Yr Membership - Download Compendium
1-Yr Membership - CD Compendium
1-Yr Membership - Print Compendium
1-Yr Membership - Print & Download Compendium
1-Yr Membership - Print & CD Compendiuim
2-Yr Membership - Download Compendium
2-Yr Membership - CD Compendium
2-Yr Membership - Print Compendium
2-Yr Membership - Print & Download Compendium
2-Yr Membership - Print & CD Compendium