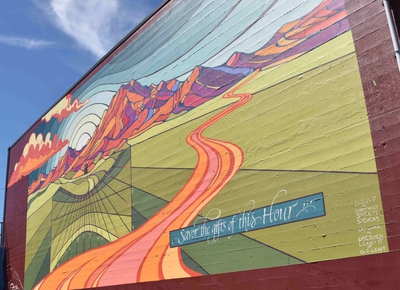 The Sundial Mural Project has been completed. Sasch Stephens of NW Sunworks spent years putting this project together and in association with Allied Arts sponsored an international competition that ultimately commissioned Gretchen Leggitt to paint a beautiful 30' x 60' wall mural incorporating the dial. The bright and engaging sundial mural is located on the south facing wall of 207 Unity Street in Bellingham, WA.

The dial and mural will be dedicated at noon Saturday, September 22, 2018 which coinsides with the date of the fall equinox. Called the "First Shadow Celebration" city council officials and noted sudialists will be present, as will Mataio Gills, co-owner of Ciao Thyme, the building that supports the mural and vertical dial. There will be music, entertainment, information about sundials, sundial kits, and a celebration of Solar Noon on the Equinox as seen on this major vertical sundial.

If you are in the Seattle-Bellingham-Vancouver area, head for the sundial dedication and First Shadow Celebration on the equinox, Saturday, Sept 22.