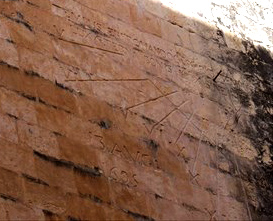 In a recent article by Michael Galea in the Times of Malta a sundial on the wall of the Jesuits' church, next to the Old University entrance on St. Paul Street in Valleta, may soon disappear if action is not taken. The dial, one of the oldest in Malta was engraved onto the brick wall on August 13, 1695, and now "The heritage authorities are earnestly solicited to take immediate action to rescue this piece of history from destruction."
Enternal light needs to shine upon this dial, for as the Latin motto reads "TEMPUS ERIT QUANDO CESSABIT TEMPUS ERITQUE LUX AETERNA BONIS NOX SINE FINE MALIS" or "There will be a time when time will cease and there will be eternal light for the good and endless night for the wicked."

Unfortunately in recent years the sundial has been neglected. The university is closed and building has other short term occupants. A dark stain from a rain spout obscures the right side and a brushy weed is growing in a chink between the stones. This dial is in need of some simple maintenance, weeding and cleaning. But now scaffolding blocks the wall and we believe the dial is slated for destruction.
Fortunately the architect responsible for the building restoration has been contacted with a proposal to restore the sundial and set a plaque with information about it at street level to draw attention to this fine Maltese sundial. What will be the fate of this dial? Hopefully not endless night.
Read about it at: http://www.timesofmalta.com/articles/view/20170103/letters/Sundial-doomed.635519 and see more photos at http://www.waymarking.com/waymarks/WM8J99_Sundial_on_Old_University_Valletta_Malta