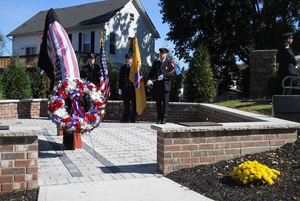 Tom Carpenter, a member of the Hampton fire company for 44 years, presented plans for a 9/11 memorial to the Borough Council at the beginning of 2012 and Councilman James Cregar began designing the memorial as a sundial using beams recovered from Ground Zero of the Twin Towers.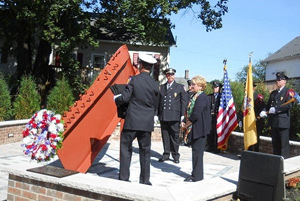 Last Saturday the beams, which had been transformed into a timeless sundial, was dedicated in a ceremony "… to the innocent victims of the attack on our country on September 11, 2001 and to all those who suffered responding to it. By the Citizens of Hampton 9/11/2012"
Fire Company President Rob Walton, also a county Freeholder, served as master of ceremonies at the dedication. Joining the volunteer firefighters were members of the Hampton Emergency Squad, some of whom went to Ground Zero immediately after the 9/11 Twin Towers attacks. Georgia Cudina of Lebanon Township assisted with the draping of the U.S. flag over the beam gnomon in memory of those who died, including her husband Richard who was among the many 2001 victims.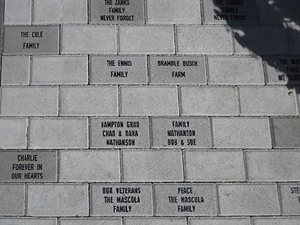 Walton explained to an audience that overflowed into the nearby street that two bent pieces of steel from one of the towers make up the gnomon of the timeless sundial. Surrounding the gnomon there are no hour lines. Rather, the dial base, shaped into a large Pentagon, has a floor of light and dark brick pavers creating the outline of the Twin Towers and the number 93 for the airline flight that crashed in Shanksville, Pennsylvania. Within the outline of the Twin Towers are pavers with engraved names and remembrances. Four plaques on the memorial wall catch the morning gnomon shadows to remember that infamous day's events:
"American Airlines Flight 11 Strikes North Tower at 8:46am"
"United Airlines Flight 175 Strikes South Tower at 9:03am"
"American Airlines Flight 77 Strikes The Pentagon at 9:37am"
"United Airlines Flight 93 Crashes in Shanksville, Pennsylvania at 10:03am"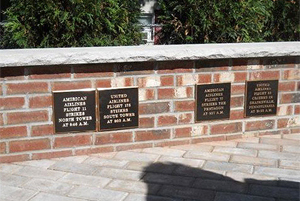 Keynote speaker Congressman Leonard Lance of Clinton Township noted that more than 700 New Jersey residents lost their lives in the 9/11 attack. And Rob Walton said that the memorial should remind us all "to treasure time."
Thanks to Tom Carpenter, Mayor James Cregar, Rob Walton, Rick Allen, and the committee of volunteers who worked so hard to create the memorial. You can read about the dedication in Terry Wright's article from the on-line Hunterdon-County-Democrat that includes many pictures of the dial and the ceremony. Visit http://www.nj.com/hunterdon-county-democrat/index.ssf/2013/09/911_sun_dial_memorial_dediated.html
To raise funds, engraved bricks with names or short messages from the donors are still available - for details contact Tom Carpenter at 908-537-4521.