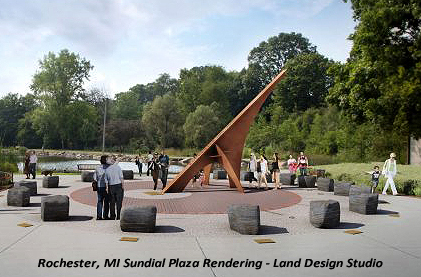 Rochester, Michigan was settled in 1817 and is now celebrating its Golden Centennial with a sundial. The city is on the northern outskirts of Detroit, with more than thirteen thousand citizens. According to Natalie Broda, Rochester City Council approved $190,000 for the sundial, but the cost of the project is expected to exceed that due to the unstable, uncompacted ground that the heavy monument will sit on." The dial will be unveilled as part of the bicentennial homecoming envent scheduled for August 12, 2017.

Broda continues,""The sundial is the brainchild of Rochester's city beautiful commission, which had been mulling the project over for several years according to Nik Banda, deputy city manager. The project was chosen after a request for proposals was sent out from city council." The sundial design was done by Russell Thayer, a sculpture artist from Franklin, Michigan.

The 20-foot tall gnomon of triangular cross section will be constructed with weathering steel, otherwise known as corten steel. Broda notes that this material was chosen to pay homage to the steel used throughout the old knitting mills of historic Rochester.

aewinc.com describes the surrounding hour marks as part of "Twenty stones [each weighing over 1000 pounds] within and surrounding the plaza have been carefully sited to celebrate twenty decades of history. The decorative stones are indigenous to Michigan and have colors that complement the gnomon; they will serve as both seating and focal elements, as well as [hourly] time markers for the sundial. Historic plaques will be placed on the stones highlighting historic events which occurred during each of the twenty decades." To increase the historical retrospective, reclaimed 100-year old bricks from historic Main Street buildings will be used to complete the circular plaza around the sundial monument.