Details

Hits: 6745
In 2000 the North American Sundial Society held its annual conference in San Francisco and visited the Ingleside Terraces Sundial. A century ago the site was a racetrack and as it turned into a housing development in 1913, a promotion sundial was installed with the advertisement "largest sundial in the world". Michael Callahan of "This Forgotten Day in San Francisco" talks about this historic dial and the developer Joseph A. Leonard of Urban Reality Improvement Company on November 15, 1913.
Details

Hits: 7483
In 1636 or 1637 Samuel Foster, a distinguished Professor of astronomy at Gresham College produced a manuscript that describes the construction and use of an analemmatic sundial, a vertical sundial, and a declining sundial.
The collection of 12 pages on four double leafs each measure 15 x 18 cm. This manuscript relates to Samuel Foster's most important invention, a computational device known as a dialling scale, and precedes the publication of his second and most significant book in 1638 "The Art of Dialling: by a New, Easie, and Most Speedy Way ..."
Details

Hits: 6832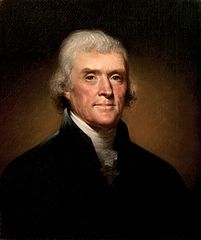 Thomas Jefferson
by Rembrandt Peale-1800
White House Historical Association
Fred Sawyer, President of the North American Sundial Society and editor of the Compendium sundial journal will present a lecture on "Gnomonic Tales of Thomas Jefferson (and other Founding Fathers)" on Thursday evening, April 10th at 7pm at the Great Falls Library, VA. Reservations are required. Contact the Fairfax County Libraries for more information.
The lecture will consider sundials in the lives of Thomas Jefferson and other prominent figures of early America such as George Washington and Benjamin Franklin. Rather than serving simply as timekeeping devices, sundials will be seen as academic exercises, inspirations for poetry, symbols of an industrious new country, invitations to relaxation, and opportunities for invention.
Details

Hits: 7853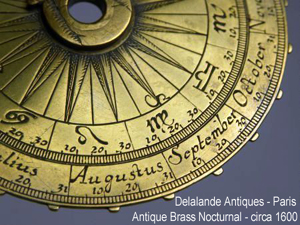 Gallerie Delalande, Louvre de Antiquaires, Paris
The Galerie Delalande, Louvre des Antiquaires in Paris is presenting an exhibition of 150 Pocket and Table Sundials. The exhibit will continue until January 19th, 2014. The gallery is now offering a book "Cadrans solaires / Sundials", written in French and English to illustrate these sundials:. http://www.delalande-antiques.com/exhibition-sundials-paris/book-sundials.html
The Louvre des Antiquaires opened in 1978 and has a beautiful collection of astrolabes and nocturnals, globes and armillary spheres, octants, sundials and equinoctial rings and much more. You can find photos of many of these dials following the link http://www.delalande-antiques.com/marine-sciences/
Details

Hits: 8620
[photo courtesy of Kathleen Gust, Terman Engineering Library, Stanford Univ]
In 1995 Professor Emeritus Bracewell designed a vertical declining dial for the south face of the Terman Engineering Building at his Stanford University home campus in Palo Alto. But the building was torn down in 2011 and by March 2012 nothing but landscaping of the new Terman Park remained. Fortunately Prof. Ronald Bracewell's sundial once again casts its solar time on the south wall of the Stanford Jen-Hsun Huang Engineering Center. Both the Huang and old Terman building have similar south-south-west alignments allowing the dial to be remounted without adjustment. [http://library.stanford.edu/blogs/stanford-libraries-blog/2013/04/sundial-returns-engineering-center].
Details

Hits: 7658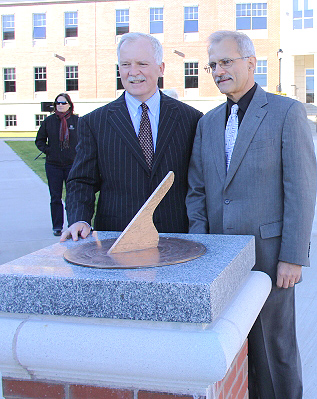 [Photo courtesy of Holland College]
In 2009 Holland College on Prince Edward Island began a major $17M renovation and expansion program, including a large open-space quadrangle. Vice President Michael O'Grady was commissioned Tony Moss of Lindisfarne Sundials [now retired] to make a replica sundial Captain Samuel Holland had given to Dartmouth College, New Hampshire in 1773. Tony undertook the work to create a copy of the dial, redeclinating it to the new site in Charlottetown in Prince Edward Island with the proviso that he "might replace the original ... chapter ring scrolls with some of my own design." Tony further commented, "I think the engraver was indulging an apprentice with the less-critical parts of the job..."
Details

Hits: 8903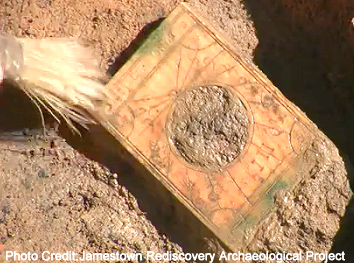 [photo courtesy of the Jamestown Rediscovery Archaeology Project]
At historic Jamestown, Virginia, the first successful English colony in the New World, a rare 17th century ivory sundial was found during recent excavations. You can read about it in Popular Archaeology June-2012
A small ivory diptych sundial was discovered during the Jamestown Rediscovery Archaeological Project dig of soil where a cellar stood as part of the early James Fort. The pocket dial was crafted by Hans Miler, most probably of Nuremberg, Germany. You can see a similar Nuremberg Diptych Sundial from Metropolitan Museum of Art made by Hans Troschel the Elder. http://www.metmuseum.org/toah/works-of-art/03.21.38
Details

Hits: 6504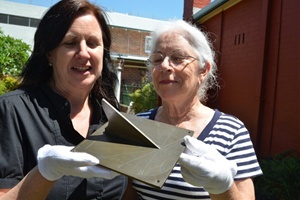 [photo credit: Port Macquarie Historical Society]
[photo credit: Port Macquarie Historical Society]
The words "sundial" and "convict" are not often used in the same context, but that is the situation in Port Macquarie, Australia when a vintage sundial made around 1840 was put on permanent display at the Port Macquarie Historical Museum. The dial was made by colonial engraver Raphael Clint and was once owned by Danial Cohen, who, convicted in 1830 of receiving stolen property in Lancaster, was sent to Port Macquarie, a penal colony at the time.
Read more about the history of this dial at: http://www.portnews.com.au/news/local/news/general/sundial-link-to-past/2361551.aspx
Details

Hits: 7447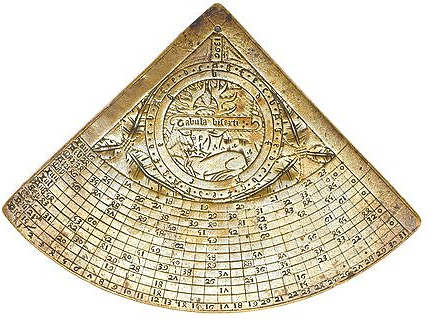 What's worth more than £150,000? An hour horary quadrant dating to 1396 with the personal seal of Richard II. It is up for auction at Bonham. The quadrant, owned by Christopher Becker in Australia, spent the last twenty years in a bag of pipe fittings. An ancestor of Becker apparently came across the quadrant 150 years ago somewhere in Northern England before its final resting spot in Australia.
This quadrant divides the day into 24 equal hours. With a plumb-line attached to one of its corners, pointing the quadrant towards the sun allows the time to be read at the intersection of the plumb line and one of the engraved scales. On its reverse, the quadrant shows a badge depicting a stag lying down wearing a coronet around its throat, symbols associated with Richard II.
The oldest European astrolabe dated 1326 is credited to being used by Chaucer (1342-1400) and resides in the British Museum.
Read more: http://www.dailymail.co.uk/sciencetech/article-2056690/Scientific-instrument-shed-Britains-second-oldest--1396-valued-150-000.html#ixzz1fbDHhO6j
Select Sundials by State/Province
Who's Online
We have 210 guests online
Copyright © 1995-2022-2022 North American Sundial Society - All Rights Reserved