Normally when one mentions a human sundial, we think of an analemmatic dial carefully painted on the ground with a himan gnoman standing carefully on a date in the central walkway. But you can design a sundial that works for a day or two by just having a central platform, standing on it to become a gnomon, and letting your shadow fall on marked hours drawn on the ground below. But would you stand there all day? NASA presented their Astronomical Picture of the Day showing that "on July 19th, the Astronomy Group of students in the Progymnasium Rosenfeld created a human sundial, each participant patiently playing the role of a gnomon for 10 minutes. In this timelapse video of their temporal voyage of discovery, one image was taken every 20 seconds from 8 amuntil4 pm Central European Summer Time. Drawn on the ground are the dial hour marks calculated to show the local time for that specific date. Behind, the tower clock offers a time check... The group plans a repetition of this performance next winter to compare the length of the day and the altitude of the sun."
Video by permission of Astronomie-AG, Progymnasium Rosenfeld, Till Credner, AlltheSky.com

>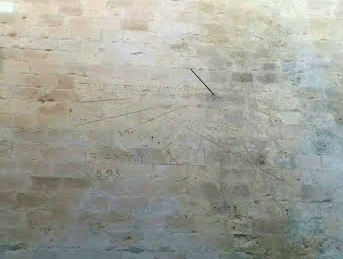 In January of this year we reported that the Malta 1695 vertical sundial on the wall of the Jesuits' Church, next to the Old University entrance on St. Paul Street in Valleta was in severe disrepair. Alexei Pace reports that "restoration of the 1695 sundial in Valletta, has now been completed. All the vegetation and fungal growth/mold has beeen removed and the stonework re-pointed."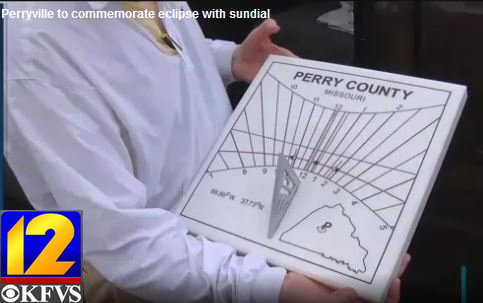 Perryville Eclipse Sundial
In Perryville, Missouri, Perry County unveilled a sundial commemprating the coming August 21st total solar eclipse. Mike Mohundro, Photojournalis for Hearland News (KFVS Channel 12) interviewed Trish Erzfeld, Perry Count Heritage Tourism Director, who said "We just wanted something after the eclipse is over with that the community can be proud of and reflect back on." Mohundro went on to write "many organizations worked on this project together including Earthworks, the [North] American Sundial Society, St. Louis Stone Artist Abraham Mohler, Perry County and more."
The sundial, shown in a KFVS video and in the photo at right, is a horizontal white milk glass sundial now mounted on a large marble pedestal (watch the dial video at http://www.kfvs12.com/story/35969739/perryville-to-commemorate-eclipse-with-sundial).
On the pedestal are three plaques, one entitled "Time" explaining how to convert the sundial's solar time to civil time as told by watches and cellphones. "Not a lot of people know how to read a sundial," Erzfeld said. "It's a teaching tool as well as a historical marker here on out." The second plaque entitled "Eclipse" shows the date and time when the August 21st eclipse starts and stops as seen in Perryville said Don Snyder, local member of the North American Sundial Society. The third plaque "Sundial" indicates who was involved in creating the dial.
Mohundro quotes Erzfeld saying "Education is been our main focus through this whole solar eclipse even... There's just so many things that play into the science of it and a sundial is one of those things that people can learn from."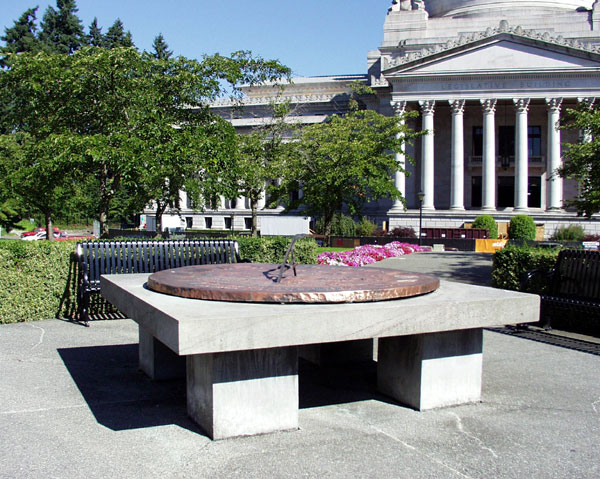 Jim Camden of The Spokesman-Review on 17 July 2017 reported that in Olympia, Washington, "Time has come for some restoration work on the Capitol sundial"
The Olympian dial has eight bas-relief panels depicting events in Washington State's history including the discoveries of Captain George Vancouver in 1792, the Medicine Creek Treaty between the US and Puget Sound Native Americans in 1854 and the first railroad to Puget Sound, built in 1883. This beautiful hammered brass dial by John Elliot was installed on 23 January 1959 (http://www.des.wa.gov/services/facilities-leasing/capitol-campus/memorials-and-artwork/territorial-sundial)

But the dial has had some hard times. In the mid 1990's the sundial's bronze gnomon was damaged by vandals, and now the sundial is headed for refurbishment with a new stronger gnomon and repairs to the panels where the dial face is bent and cupping. And to improve the sundial's time telling accuracy, the sundial's base and anchoring system will be improved to ensure thedial face is flat and fully horizontal.

The project is included in the operating budget of the Public and Historic Facilities funds for 2017-19, which is designated for care of campus memorials and artwork. The sundial restoration work is expected to cost less than $10,000 and will be complete in late fall of 2017.

Read more at: http://www.des.wa.gov/about/news-media-center/capitol-campus-sundial-be-removed-repairs-week-july-17