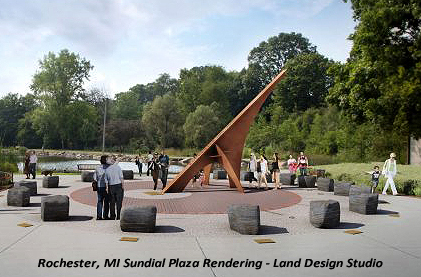 Rochester, Michigan was settled in 1817 and is now celebrating its Golden Centennial with a sundial. The city is on the northern outskirts of Detroit, with more than thirteen thousand citizens. According to Natalie Broda, Rochester City Council approved $190,000 for the sundial, but the cost of the project is expected to exceed that due to the unstable, uncompacted ground that the heavy monument will sit on." The dial will be unveilled as part of the bicentennial homecoming envent scheduled for August 12, 2017.

Broda continues,""The sundial is the brainchild of Rochester's city beautiful commission, which had been mulling the project over for several years according to Nik Banda, deputy city manager. The project was chosen after a request for proposals was sent out from city council." The sundial design was done by Russell Thayer, a sculpture artist from Franklin, Michigan.

The 20-foot tall gnomon of triangular cross section will be constructed with weathering steel, otherwise known as corten steel. Broda notes that this material was chosen to pay homage to the steel used throughout the old knitting mills of historic Rochester.

aewinc.com describes the surrounding hour marks as part of "Twenty stones [each weighing over 1000 pounds] within and surrounding the plaza have been carefully sited to celebrate twenty decades of history. The decorative stones are indigenous to Michigan and have colors that complement the gnomon; they will serve as both seating and focal elements, as well as [hourly] time markers for the sundial. Historic plaques will be placed on the stones highlighting historic events which occurred during each of the twenty decades." To increase the historical retrospective, reclaimed 100-year old bricks from historic Main Street buildings will be used to complete the circular plaza around the sundial monument.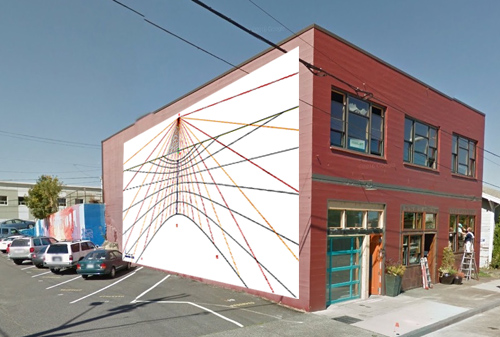 In Bellingham, WA there is a small, plain building with a 54 x 28 feet south facing wall. What kind of a vertical sundial can you imagine on that wall? The Allied Arts of Whatcom County is making a request for proposals for "The International Bellingham Wall Sundial Mural Competition". NW Sun Works, a small group dedicated to the creation of sundials and public artworks, is seeking artist proposals for a working vertical sundial and mural. It is to be constructed on a south facing wall in Bellingham, WA. on a private building near the downtown core. The project is open to any artist, muralist or sundialist, including teams of people who would like to work together.

Proposals may be made by artists, persons, or teams for:
submit a design proposal only
submit design proposal with ability to create the mural
submit design proposal with ability to do any mural and installation of sundial time telling elements.
If the winning design is a 'design proposal only', they will have local talent available to complete any work required for the sundial portion and for any mural/artwork involved. To demonstrate what a vertical, south facing sundial looks like, the group used the Sonna 4.01 software by Helmut Sonderegger (available at Sonne403 Sundialists Software) to present a deliniated vertical sundial for the Bellingham latitude of 48.75 deg at 2.48 degrees west of the 120th time zone meridian.

"Bellingham is a hidden jewel of Washington State filled with people who are forward thinking and enjoy the outdoors. Protected by the North Cascade mountains and bumped right up to the bay, our views are speckled with island's, volcanic mountains, numerous lakes, thick mossy forests, and are surrounded by small farms. Our city thrives on small businesses which fill our brick buildings thanks to our community which encourages handmade and locally sourced goods. Bellingham is very unique, and we hope for the designs to reflect this vibe."


Read more at: http://www.alliedarts.org/sundial-mural-competition/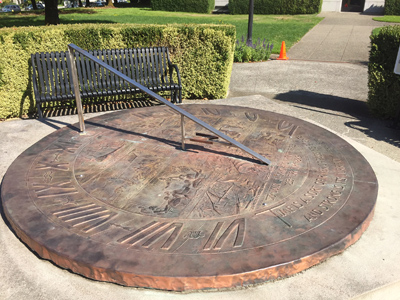 What do you do when your state's college Capitol Campus in Olympia, WA has a beautiful sundial designed by John Elliot, but a wimpy gnomon? The dial has been subject to a poorly designed and vandalized gnomon since it was installed in 1958. Now the Washington State Department of Enterprise Services "invites student designers to create a design for a functional, accurate, and aesthetic gnomon for the state's Capitol Campus sundial." To be eligible for the design contest, students must be enrolled in a Washington State community or technical college. The contest encourages student teams and an honorarium of $1000 will be awarded for the winning design.
The gnomon must be made for the sundial latitude of 47 degrees, with a maximum base length of 39.5 inches (1003 mm) to fit the 6 foot diameter circular sundial with center offset gnomon . "Practical concerns such as strength, resistance to vandalism, ease of maintenance, cost, and method of attachment will also be important aspects of a winning design." Esthetics of gnomon style, artistry, and content that blend with the sundial and capitol campus environment are important criteria.

Entries are due by February 24, 2017 and the winning design will be announced March 10, 2017. Read more at : http://des.wa.gov/services/facilities-leasing/capitol-campus/memorials-and-artwork/territorial-sundial/sundial-gnomon-design-contest
Today it is snowing in Washington DC and it brings to mind a winter some 43 years ago when the Washington Monument was turned into a sundial. Over the years many have proposed turning this spiring monument into a sundial. For example at the first North American Sundial Society (NASS) Conference in 1995 Robert Terwilliger drew a map of the shadow's excursion from Independence Avenue to E Street NW, repeated here at left. In June 2011 in the NASS Quarterly Journal The Compendium Robert Kellogg suggested that "...the precise shadow lines drawn in [Terwilliger's map] are precise geometrical constructs. The problem is the sun is not a point source, but a disk about 1/2 degree in diameter. The result is the sun casts a penumbral (partial) shadow when it is partially obscured, resulting in a range of light to dark sunlight that blurs the edges of shadow, making a gradient from light to dark.

To get a feeling for the impact of the penumbral shadow from the Washington Monument, we start with a brief summary of the Monument: A competition was held in 1836 and won by architect Robert Mills who designed a tall obelisk. Excavation began in early 1848 and the cornerstone was laid as part of the 4th of July ceremony by the Freemasons. Lack of funds created a hiatus in construction in 1858, and finally the capstone to create a pyramidal point to the obelisk was laid December 6th, 1884. The obelisk as we see it today is 169.29 meters tall, 16.8 meters wide at the base and 10.5 meters wide at the start of the capstone pyramid. The pyramid itself is 17m tall, with a small aluminum capstone at the tip and by the time the sun is sufficiently blocked by the top of the oblesk for us to see the shadow, the sun is well below the tip.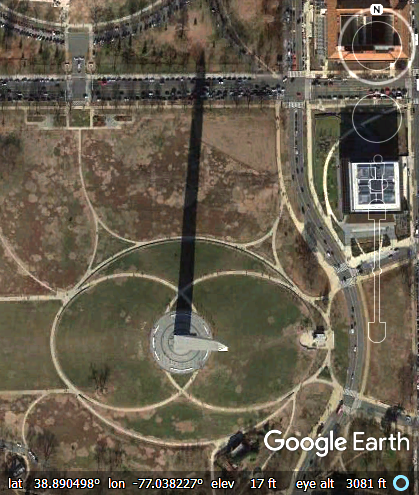 In The Atlantic on-line issue of May 23, 2014 Robinson Meyer found that the Washington Monument captured the imagination of Google Map engineers: "Ken Norton, a partner in Google Ventures, reports that the digital shadow has reflected the real shadow's position for about three years. [now, 6 years] It's a fun accent, possible only with the kind of live, dynamic map that Google deploys...Google didn't need to add the monument's shadow, but it did, as a kind of homage to the world's hidden-in-plain-sight details. Of course, Google's unknown mapmaker wasn't the first to notice the monument's shadow. 'As an artist, one of the things that I do...and I think most artists traditionally have done...is point out things people don't see.' "

Which brings us back to the snowing day 43 years ago on February 11, 1974 when Yuri Schwebler decided to turn the Washington Monument into a sundial. In her article Meyer continues: "He was, by day, a newspaper layout designer...[but] before Google made its sundial for the screen, Schwebler turned the monument into a real (gigantic!) one in the winter of 1974:"
Schwebler said, "One day I realized I'd never seen the shadow of the Washington Monument because it's so huge. And then one day I looked for it, and I saw it, and it moved. I was at the end of the shadow, and it moves about four feet every minute." His materials for such a transformation? According to CBS, $24, six feet of snow, and a plow on loan from the National Park Service. During the report, Schwebler, who died in 1990, is asked why he turned the monument into a sundial at all. His answer? "You can actually see the Earth move, or feel it move, by watching that shadow."
Click on the video above or watch it on YouTube at https://www.youtube.com/watch?v=_M5WXcVsfIk to see Walter Cronkite of CBS news report on the Washington Monument as a giant sundial.