At the Grolier Club on the Upper East Side of Manhattan is a massive exhibit On Time: The Quest for Precision curated by Bruce Bradley. The exhibit presents the progress of timekeeping over six centuries through 86 rare books from the Linda Hall Library of Science, Engineering & Technology.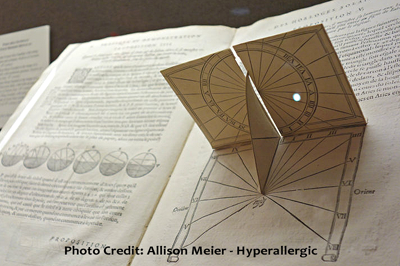 1624 La pratique et demonstration des horloges solaires
Journalist Allison Meier of Hyperallergic.com describes a number of books on display such as "German cartographer Sebastian Münster's 1533 Horologiographia, the first book devoted to sundials, with woodcuts attributed to Hans Holbein the Younger." As shown in her photo, "French engineer Salomon de Caus's 1624 La pratique et demonstration des horloges solaires has embedded pop-ups to make the workings of its sundials easier to replicate."

The scope of "On Time" stretches from sundials, to water clocks, mechanical clocks and even a Pilkington & Gibbs Heliochronometer, ending with our latest atomic clocks. The display flirts with the possible. While Benjamin Franklin may have suggested using hourly time-telling canon in the 18th century, Athanasius Kircher proposed a fanciful firing sundial a century earlier in his 1646 Ars magna lucis et umbrae in decem libros digesta. His bowl-shaped sundial holds gunpowder at the hours that is ignited by the rays of the sun from a lens. In turn the firing gunpowder triggers hammers to toll hourly bells. If one thinks about this for a moment, Kircher's proposal is as unrealistic as Franklin's. The change in solar declination creates problems for proper placement of the gunpowder, let alone directing the ignition to trigger hammers.

Allison observes that "These manuscripts affirm the centuries of shared ideas that give our modern timekeeping devices their precision." On Time: The Quest for Precision" continues through November 19, 2016.
Read more at: http://hyperallergic.com/327958/on-time-grolier-club-manhattan/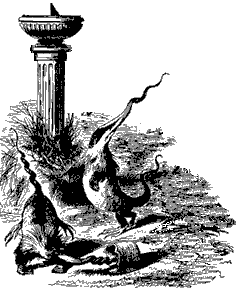 What do Omega Psi Phi fraternity of Howard University Washington DC, Merton College in Oxford, Nashotah House Theological Seminary in Wisconsin, and Lewis Carroll's poem Jabberwocky all have in common? Dancing and ceremonies around a sundial! In Carroll's poem of 1885 "the slithy toves did gyre and gimble in the wabe" and as Alice explains to Humpty Dumpty, "Toves are curious creatures that are something like badgers, something like lizards, and something like corkscrews. They make their nests under sun-dials and live on cheese." and "Wabe is the grass-plot round a sun-dial. It is called like that because it goes a long way before it, and a long way behind it. And a long way beyond it on each side."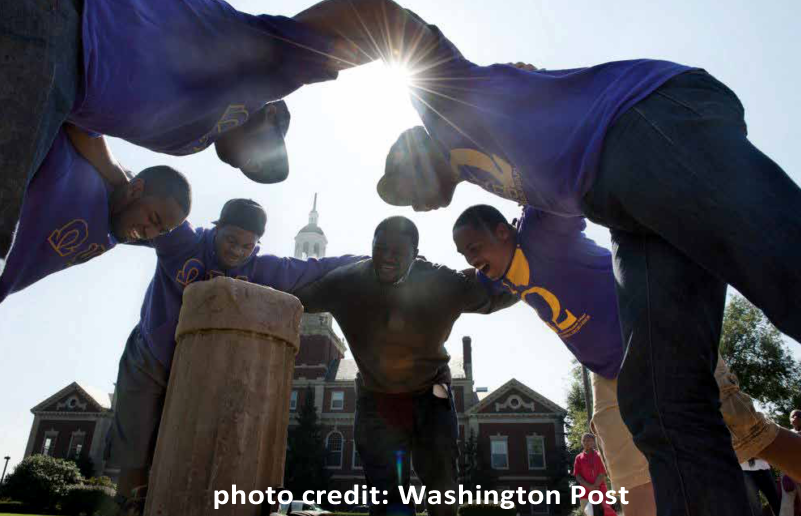 At Howard University in the center of the main campus quadrangle is a bronze sundial on a 3-foot fluted limestone pedestal, gifted in 1929 to the university in honor of Benjamin Banneker, surveyor of the city of Washington DC, clockmaker, and sundialist.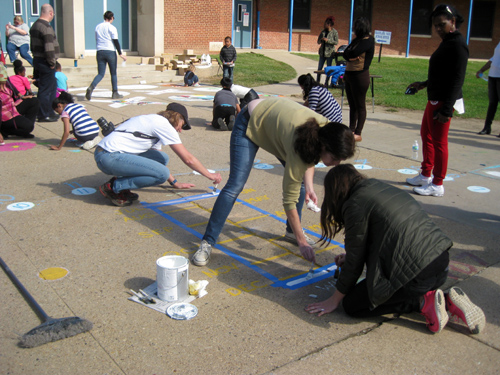 Grimm & Parker Architects sponsored a "Green Apple Day" on October 15, 2016 to help two Baltimore City Schools - Graceland Park ES/MS and Holabird Academy ES/MS - receive analemmatic sundials on their front sidewalks. The weather was perfect as teachers and volunteers from G&P chalked out and then painted simple 16 x 5 foot analemmatic sundials.
The sidwalks were aligned true North-South, making dial lay-out easy. With tape measures in hand, they marked out the focal points and north point of the analemmatic ellipse. Then, using the time-honored principle of constant distance they used a chalk line between those 3 points to maneuver a piece of chalk following the shape of an ellipse. For the sundial, the ellipse stretched from 5am to 7pm. The hour marks were made using two tape measure to check positions that were quickly followed by drawing of the hour circles with a plastic lid. While volunteers painted the hour circles others chalked out the walkway whose monthly lines and solstices were quickly painted as well. The final touch was the inclusion of the East and West Bailey points that determine the direction of the rising and setting sun. With a lot of support and good organization, both dials were finished in 3 hours!
Amid the rain and cloudy skies, on Saturday October 1st, 2016, a ribbon-cutting ceremony officially opened the Roll-Top Observatory at Observatory Park, Turner Farm in Great Falls, VA. Tim Hackman, Dranesville District representative of the Fairfax County Park Authority (FCPA) Board, introduced all those who made the Roll-Top observatory possible through public-community-and-private funding. Initiated in 2007 in collaboration with the Analemma Society, the million-dollar facility was funded in part by the 2008 and 2012 Park Bonds, telecommunications funds, Mastenbrook grant money and a donation provided by Jean and Rick Edelman through the Fairfax County Park Foundation.
Ground breaking for Roll-Top began in 2014 and over the next two years the Roll-Top Observatory design by architects Shaffer Wilson Sarver & Gray of Herndon, VA, was carried out by the construction company Brown and Root of Arlington, VA.