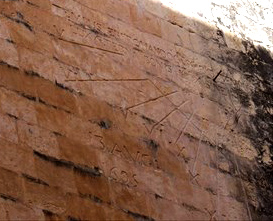 In a recent article by Michael Galea in the Times of Malta a sundial on the wall of the Jesuits' church, next to the Old University entrance on St. Paul Street in Valleta, may soon disappear if action is not taken. The dial, one of the oldest in Malta was engraved onto the brick wall on August 13, 1695, and now "The heritage authorities are earnestly solicited to take immediate action to rescue this piece of history from destruction."
Enternal light needs to shine upon this dial, for as the Latin motto reads "TEMPUS ERIT QUANDO CESSABIT TEMPUS ERITQUE LUX AETERNA BONIS NOX SINE FINE MALIS" or "There will be a time when time will cease and there will be eternal light for the good and endless night for the wicked."

Unfortunately in recent years the sundial has been neglected. The university is closed and building has other short term occupants. A dark stain from a rain spout obscures the right side and a brushy weed is growing in a chink between the stones. This dial is in need of some simple maintenance, weeding and cleaning. But now scaffolding blocks the wall and we believe the dial is slated for destruction.
Fortunately the architect responsible for the building restoration has been contacted with a proposal to restore the sundial and set a plaque with information about it at street level to draw attention to this fine Maltese sundial. What will be the fate of this dial? Hopefully not endless night.
Read about it at: http://www.timesofmalta.com/articles/view/20170103/letters/Sundial-doomed.635519 and see more photos at http://www.waymarking.com/waymarks/WM8J99_Sundial_on_Old_University_Valletta_Malta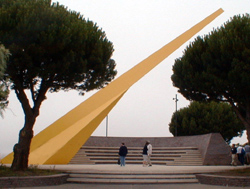 Hilltop Park was built by the San Francisco Redevelopment Agency in 1987 and the iconic 70 foot sundial and nearby skatepark, "The Dish", the oldest skatepark in the San Francisco were in need of repair. Rennovation funding came primarily from the statewide Park Development and Community Revitalization Act of 2008 (Assembly Bill No. 31), which set aside one of its largest grants of \(5 million out of \)368 million to improve parks and recreation facilities in underserved communities throughout California. An additional $1.6M for Hilltop Park renovation came from The Trust for Public Land, Bayview advocacy group Parks 94124 and a private philanthropist.

On December 3, 2016 public officials and community citizens celebrated the opening of the revitalized Hilltop Park. The sundial received a new coat of yellow paint and refurbishment and the Dept of Parks and Recreation upgraded the surrounding plaza, amphitheater and lighting. "The Dish", was redesigned with a modern flair, and the surrounding park given a surrounding of native and drought tolerant plants. Meaghan Mitchel concludes an article about the rennovation: "The newly renovated park also boasts adult fitness equipment, picnic area with a barbecue pit, and telescopes as well as educational signage to enhance science and cultural learning opportunities."

Read more in an article by Meaghan Mitchel (January 2, 2017):
http://sfbayview.com/2017/01/bayview-community-celebrates-newly-renovated-hilltop-park/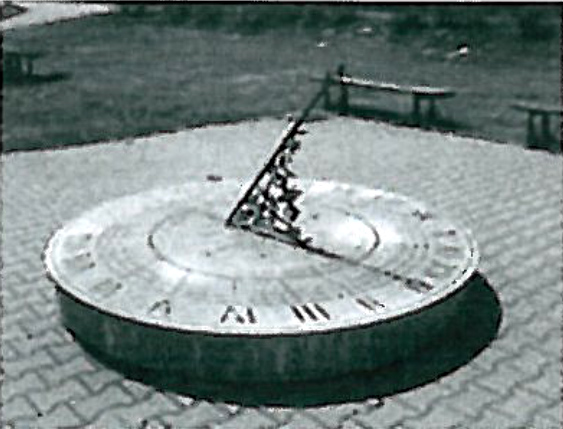 Photo: PL 664 Sundial at School in Janowice Janowice Rybnickie just south of Rybnik
The sundials working group of the Czech Astronomical Society in Hradec Králové organized a short study tour to Poland in June 2016 with a special emphasis on seeing sundials. This report is provided by Hohumil Landsman:
"The first stop was the Muzeum im. Przypkowskich, the world famous museum that began as the clock collection of the Przypkowski family. It is situated in the town square of Jędrzejów. As well as various fixed and portable sundials, the museum showed devices for the construction of sundials and several old books on astronomy and gnomonics."
"From there we visited the Planetarium and Observatory of Youth in Niepołomice. Among other things, there were commentaries available for blind visitors for whom the spoken word is a principal source of information. Another interesting stop was the Silesian Planetarium and Astronomical Observatory of Nicolaus Copernicus in Chorzów. In the courtyard of the planetarium there is a large sundial showing local solar time, and in the basement we found a seismological station containing two early 20th-century seismographs as well as their more modern equivalents. A meteorological station forms part of the same complex of buildings. As an additional diversion, we also visited the salt mines in Wieliczka."
Richard Mallet at Cornell Univ. Sundial
Richard Mallet, former British Sundial Society Trustee, Council Member and former BSS Webmaster passed away on Nov 7th, 2016 with funeral held on Dec 12th, 2016. He lived in Eaton Bray, UK and had many interest in physics, mathematics, and sundialing. Those of us maintaining websites know of the difficulty in perserving order, yet always allowing for expansion of new material. "After a near disaster with the [British] Sundial Society's then heavily modified and entirely non-compliant website, Richard stepped in at no charge to the Society to rewrite it using the then new Expression Web software from Microsoft. This proved very successful and was of course fully W3C compliant."

Over the next year, the North American Sundial Society website will migrate from an older version of the Joomla Content Management System to the fully maintainable Joomla 3.x version. The majority of content and organization will remain intact, but new innovations are expected.

Read more about Richard Mallet's life at: http://www.ppowers.com/mallett.htm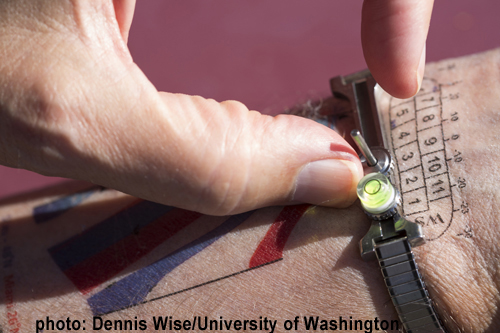 Woodruff (Woody) T. Sullivan III hosted two NASS conferences, one in 1998 and a second in 2011, each time showing many new Seattle sundials...most of which he had a helping designer's hand. Woody made T-shirts proclaiming "Seattle - sundial capital of North America". Now in the on-line University of Washington Today for December 1, 2016, Peter Kelley profiled Professor Emeritus Sullivan, noting the many worlds of interest by the UW astronomer and astrobiologist...including his passion for sundials. In Kelley's interview Woody expounded "My sundial interest began very specifically in 1991. I got interested because three years before we moved in to the new Physics-Astronomy building in 1994, the architects asked , what do you want? I'm thinking of my interest in history of science and art and design, so I casualy said, 'A sundial would be nice'. Since then, it's hard to believe - like getting married - that there's a phase in my life before that."

That UW sundial was a large vertical decliner, entered in the NASS Sundial Registry as Dial #117. But now a new precision sundial...using an arm tattoo. Woody explained, "This started with a paleontologist graduate student in the astrobiology program. She likes sundials and we got talking and over the last couple of years we designed [a tattoo sundial]. The idea was for her to have it, but she how has her degree and has since left town. Meanwhile I said to myself, dammit - that would be pretty neat. In April I gave a talk to the British Sundial Society about the technical details and showed the decal I'd made for my inner forearm. I'm going to write it up for their publication. The world's first working sundial tattoo!"
Read more at:: http://www.washington.edu/news/2016/12/01/the-many-worlds-of-uw-astronomer-and-astrobiologist-woody-sullivan/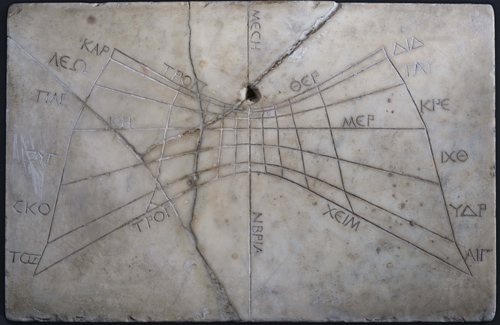 Horizontal Gnomonic Dial (Inv. 3075)
Museo Archeologico Nazionale di Napoli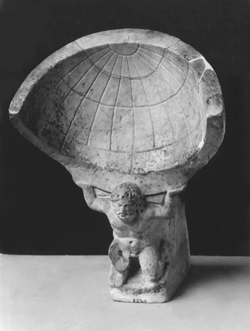 Statuette of Atlas Bearing a Hemispherical Sundial
Sir John Soane's Museum, London
The Institute for the Study of the Ancient World (15 East 84th Street in New York) is hosting an exhibition "Time and Cosmos in Greco-Roman Antiquity" open to the public from now until April 23, 2017. From their on-line invitation, "This exhibition aims to explore the ways that time was organized and kept track of in the Greco-Roman world, and how it was conceived in relation to the Cosmos. The objects displayed include artifacts illustrating the technology of ancient time-reckoning and the perception, visualization, and social role of time and cosmos..." This is exemplified by a wonderful horizontal gnomonic sundial using a vertical gnomon shown at left. It was found at Pompeii around 1865 and became part of the Museo Archeologico Nazionale di Napoli in 1867. "Despite the fact that it was found in Italy, the inscriptions on it are in Greek, perfhaps reflecting the status of Greek as the langauage of science in antiquity. The summer and winter tropics (solstices), equinox, and seasons are reasonably declined. The hour lines however reflect temporal hours rather than the hour angles we would draw todayl.
At the Grolier Club on the Upper East Side of Manhattan is a massive exhibit On Time: The Quest for Precision curated by Bruce Bradley. The exhibit presents the progress of timekeeping over six centuries through 86 rare books from the Linda Hall Library of Science, Engineering & Technology.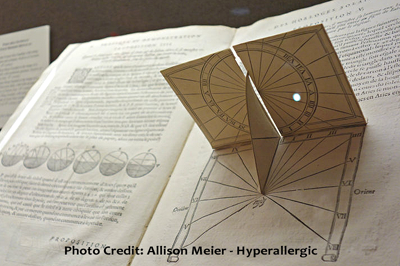 1624 La pratique et demonstration des horloges solaires
Journalist Allison Meier of Hyperallergic.com describes a number of books on display such as "German cartographer Sebastian Münster's 1533 Horologiographia, the first book devoted to sundials, with woodcuts attributed to Hans Holbein the Younger." As shown in her photo, "French engineer Salomon de Caus's 1624 La pratique et demonstration des horloges solaires has embedded pop-ups to make the workings of its sundials easier to replicate."

The scope of "On Time" stretches from sundials, to water clocks, mechanical clocks and even a Pilkington & Gibbs Heliochronometer, ending with our latest atomic clocks. The display flirts with the possible. While Benjamin Franklin may have suggested using hourly time-telling canon in the 18th century, Athanasius Kircher proposed a fanciful firing sundial a century earlier in his 1646 Ars magna lucis et umbrae in decem libros digesta. His bowl-shaped sundial holds gunpowder at the hours that is ignited by the rays of the sun from a lens. In turn the firing gunpowder triggers hammers to toll hourly bells. If one thinks about this for a moment, Kircher's proposal is as unrealistic as Franklin's. The change in solar declination creates problems for proper placement of the gunpowder, let alone directing the ignition to trigger hammers.

Allison observes that "These manuscripts affirm the centuries of shared ideas that give our modern timekeeping devices their precision." On Time: The Quest for Precision" continues through November 19, 2016.
Read more at: http://hyperallergic.com/327958/on-time-grolier-club-manhattan/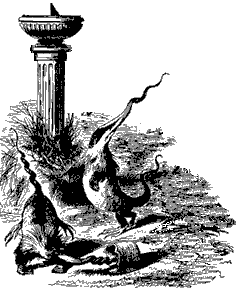 What do Omega Psi Phi fraternity of Howard University Washington DC, Merton College in Oxford, Nashotah House Theological Seminary in Wisconsin, and Lewis Carroll's poem Jabberwocky all have in common? Dancing and ceremonies around a sundial! In Carroll's poem of 1885 "the slithy toves did gyre and gimble in the wabe" and as Alice explains to Humpty Dumpty, "Toves are curious creatures that are something like badgers, something like lizards, and something like corkscrews. They make their nests under sun-dials and live on cheese." and "Wabe is the grass-plot round a sun-dial. It is called like that because it goes a long way before it, and a long way behind it. And a long way beyond it on each side."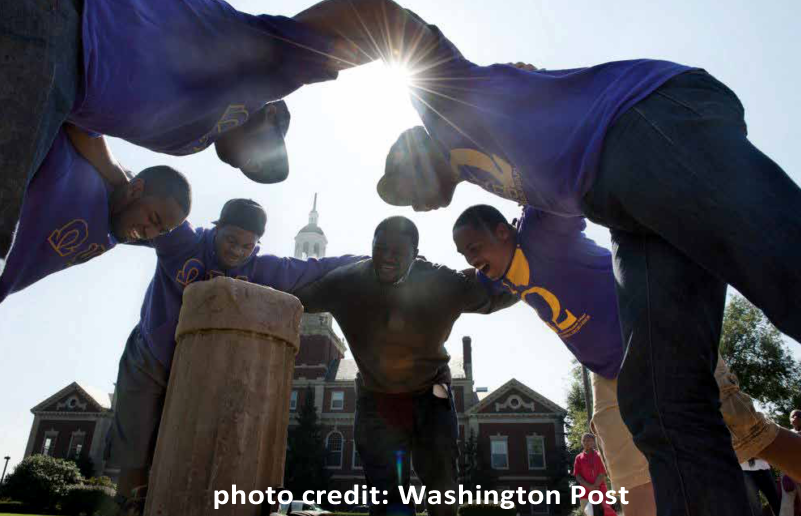 At Howard University in the center of the main campus quadrangle is a bronze sundial on a 3-foot fluted limestone pedestal, gifted in 1929 to the university in honor of Benjamin Banneker, surveyor of the city of Washington DC, clockmaker, and sundialist.