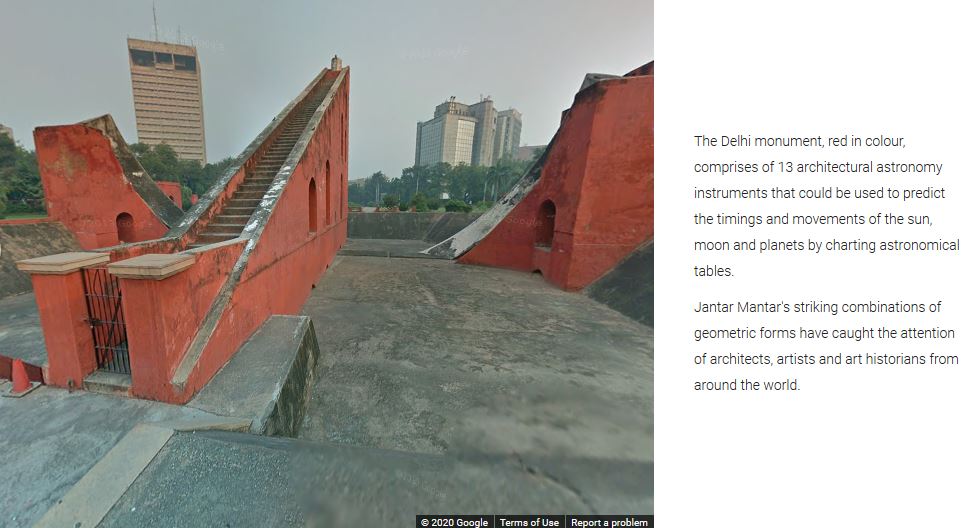 Google Arts and Culture offers you to take a virtual tour of the 13th century observatory Jantar Mantar in Delhi. At the opening view (see the website link below), the Google tour explains: "Innovations in architectural astronomy: The Jantar Mantar Obervatory, Delhi's outdoor astronomical observatory is the earliest of five observatories built by Sawai Jai Singh II across India. It is dominated by a huge sundial and houses other innovative instruments that help plot the course of heavenly bodies...."
"The Maharaja designed four similar observatories in Jaipur, Ujjain, Mathura and Varanasi to help and improve upon the studies of space and time. The Jantar Mantar in Jaipur is now the largest among them." Google gives us a glipse of the large equatorial dial of the Man Singh Observatory in Varanasi and then focuses on the four large brick and plaster instruments at Jantar Mantar: the Ram yantra, two circular structures next to each other used to observe celestial objects; the Samrat yantra, one of the largest equatorial dials in the world with stairs leading to the top of the triangular gnomon (looking like stairs to the heavens) and surrounded by a large equatorial band to measure solar time; the Jai Prakash yantra that consist of two elaborate sunken hemispheres so large that there are stairs from the bottom leading between huge longitudinal bands; and the Misra yantra, which is shaped like a heart and is composed of five different sun and alignment instruments to determine the shortest and longest days of the year at the solstices.
Take a personal visit to these historic astronomical and solar instruments at: The Jantar Mantar Observatory - Google Arts & Culture
We're sorry to announce that the NASS Board has decided to cancel the 2020 conference due to the Covid-19 pandemic. August is still some months away, but even if the economy opens up by then, we expect that there will still be a need for social distancing, gatherings may be discouraged, and many people will be more focused on trying to get their savings back in order than in traveling around the country. So all in all we thought it best to cancel now and minimize cancellation fees. For those that registered, you will get a 100% refund.
We hope to see you for the NASS Conference next year. Start planning now. Nothing definite yet, but we are expecting that we will be back in Philadelphia at about the same time of year. Please join us - we can celebrate getting through this unsettling time and become reinvigorated with the world of sundials. There is light at the end of the tunnel.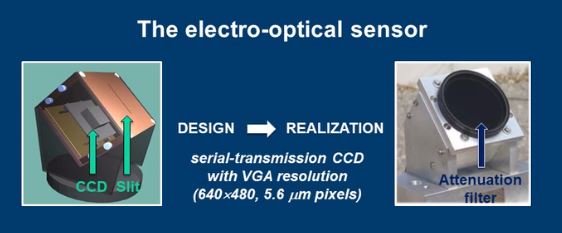 The National Agency for New Technologies, Energy and Sustainable Economic Development (ENEA) is an Italian Government sponsored research and development agency. In 2017 Sara Bollanti and her team at ENEA in Frascati developed a solar compass that "is 100 times more precise than magnetic compasses..." with applications for surveying, civil engineering, and for us, sundial alignment. The heart of the device is a combination of GPS receiver for determining both time and geographic position and a solar collector consisting of a narrow slit and a CMOS image detector. Essentially this is an electronic solar azimuth compass. A smallArduino computer uses the UTC time plus geographic coordinates to compute the local sun azimuth and then compares it to the position of the sun's projection of a slit on a CMOS detector. According to ENEA, the "...electronic solar compass is compact, completely automatic, cheap, and reaches an accuracy better than 1 arcmin. The latter is one of the best currently available values, comparable to those achievable by means of much more expensive and sophisticated devices, like coupled GPS systems (see for example U.S. patent 5,617,317A, 1997) or gyrocompasses. Furthermore, the ENEA compass provides the orientation in a few seconds, a time extremely shorter than that necessary for gyrocompasses."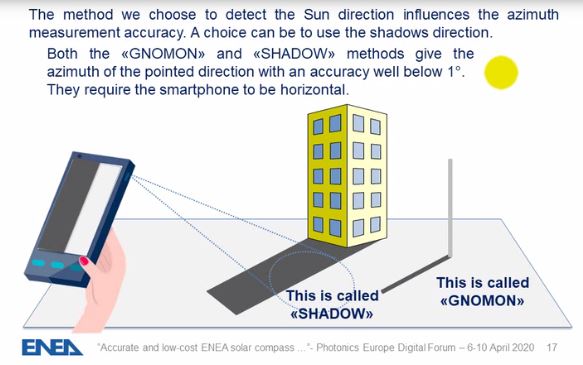 By 2018 this was tested in Antarctica and now the mathematics has been reduced to fit into your smart phone. In April 2020 the ENEA team announced the developed the smartphone app i called "SunPass". It is currently in beta testing and will soon be available at the Play Store. In basic form, the app allows you to acquire the sun azimuth by pointing toward the shadow of a vertical object such as a building ("shadow method") or the shadow of a vertical pole ("gnomon method"). A more accurate appraoch is to construct a box with a slit on the front and hole on top such that the smartphone can observe the illuminated sun line on the floor of the box ("Slit method"). For the advanced, one can construct a precision holder from a kit that mounts on a tripod.
ENEA's goal of a low cost, simple method of precision alignment is now accessible to all. This new technology implements the mathematics of determining the sun's azimuth in elegant ways. But of course it only works on sunny days.
Read more at:
http://eai.enea.it/archivio/anno-2017/astana-italy/the-enea-solar-compass-how-to-catch-more-sun-by-using-the-sun
And watch the video:
https://www.spiedigitallibrary.org/conference-proceedings-of-spie/11352/1135216/Accurate-and-low-cost-ENEA-solar-compass-for-precision-metrology/10.1117/12.2555747.full?SSO=1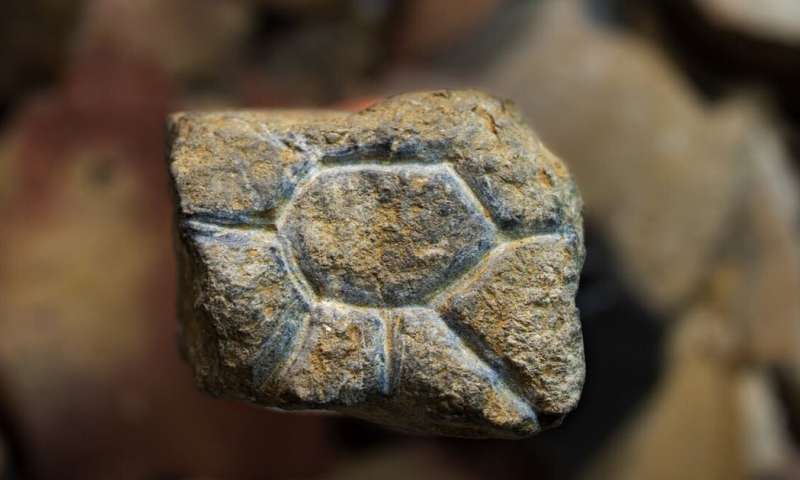 Photo Credit: Andrew Thompson
Archaeologists have found two miniature stone engravings in a cave on the island of Sulawesi in Indonesia. One plaquette appears to be a sunburst, the other an ibex like animal, the anoa. These pocket-sized carvings dating back between 14,000 and 26,000 years. Elsewhere in Sulawesi the oldest cave art dating to 44,000 years ago was recently discovered, dispelling the Euro-centric notion of Pleistocene art.
Examining the incisions cut into the ancient flowstone, the Sunburst hexegon outline was carved starting in the photo from upper left, with continuing connecting lines done clockwise. Then the 7 rays were added. Small traces of a red mineral (perhaps red ochre pigment) exist in some of the sunburst cuts, possibly indicating that the sun was enhanced in a beautiful red color. Before this discovery the oldest known depiction of the sun was from the Nebra sky disk found in Germany and fabricated of metal 3,600 years ago, rivaling Pharaoh Akenaten who built a whole city to the glory of the sun (Aten) 3,365 years ago. These are recent times compared to the sunburst.
The archaeology team was lead by Michelle C. Langley of the Australian Research Centre for Human Evolution, Griffith University, with associates at Arkeologi Nasional (ARKENAS), Jakarta, Balai Arkeologi Sulawesi Selatan and Balai Pelestarian Cagar Budaya in Makassar. They report in Nature Human Behaviour "... the discovery of two small stone 'plaquettes' incised with figurative imagery dating to 26–14 ka from Leang Bulu Bettue, Sulawesi. [The pocket-art was discovered in a cave and rockshelter complex of Leang Bulu Bettue (4° 59' 31.18" S, 119° 40' 5.53" E) situated at the foot of a limestone tower in the Maros-Pangkep karst area.] These new findings, together with the recent discovery of rock art dating to at least 40 ka in this same region, overturns the long-held belief that the first H. sapiens of Southeast Asia–Australasia did not create sophisticated art and further cements the importance of this behaviour for our species' ability to overcome environmental and social challenges."
The artefacts reported here are currently curated at the Australian Research Centre for Human Evolution, Griffith University, Nathan, Australia. They will return to Indonesia at the conclusion of the project where they will be given accession numbers and be curated in Makassar by Balai Arkeologi Sulawesi Selatan.
Read more at: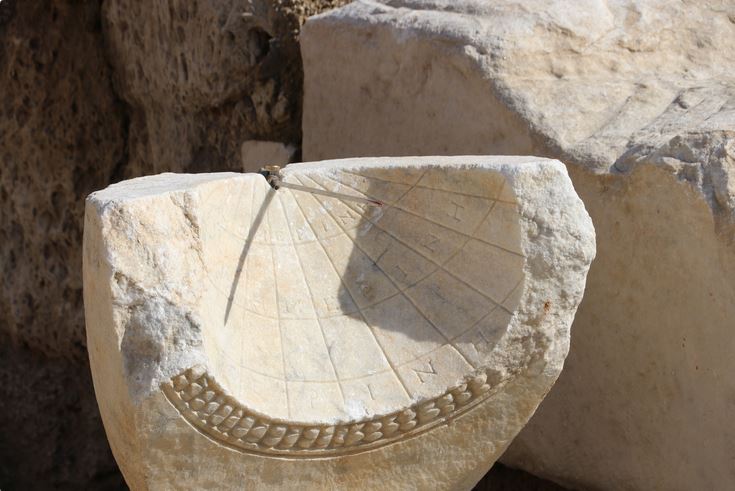 Several years ago in 2017 archaeologists found a rare hemicyclium sundial. Now another hemicyclium in excellent condition has been unearthed in Turkey's city of Denizli. Celal Şimşek, chief archaeologist at Denizli's Pamukkale University, calls it "unique". A better word is rare. Less than a hundred examples of this type of Hellenistic sundial have survived. It was found in the ancient city of Laodicea about 370 miles south of Istanbul. The sundial seems to have come from the archaeological site of one of the temples. As reported in the Daily Sabah, "Among the rare, largely preserved buildings in the city are the largest ancient stadium in Turkey, a theater and a sacred agora." The hemicyclium of pink marble has an outer edge decorated in foliage while the interior hemisphere has the traditional Greek names of the seasons. Hour lines deliniate the time. Almacantor lines show the solstices and a great circle marks the equinox. In AA Photo of the sundial at right, a needle gnomon has been restored to show how the sundial casts a shadow. Time and season are read at the gnomon shadow's tip.
Read more at: https://www.dailysabah.com/life/history/2000-year-old-sundial-unearthed-in-southern-turkeys-denizli
ADDENDUM FROM SUNDIAL DIGEST - 10 April 2020
I would like to add two arguments to the questions [of the sundial's age] under discussion:
1. Prof. Şimşek said: "On the North Parados passage in the Western Theater, which dates back to the Hellenistic Era, in the ancient city we have found a spherical sundial facing south, which we believe to be 2,020 years old.
This is a kind of conclusion which does not help by dating the dial. A comparison with similar specimens reveals that it was probably done around 200 – 400 CE.
2. "Inscribed on the dial are the Greek word 'Ksimerini', or winter on the upper part; 'Isimerini', or solstice, which denotes the equality of day and night in the middle; and 'Terini', or summer in the bottom."
I read (ΤΡΟΠH) ΧΕ(Ι)ΜΕΡΙΝH / IΣΗΜΕΡΙΝH / (ΤΡΟΠH) ΘΕΡΙΝH.
These are the names of the solstices and the equinoxes. What is conspicuous is the missing of I in χειμερινή (it should be written with diacritic signs). That is another strong argument that it was done in the Roman era.
With best wishes
Karlheinz Schaldach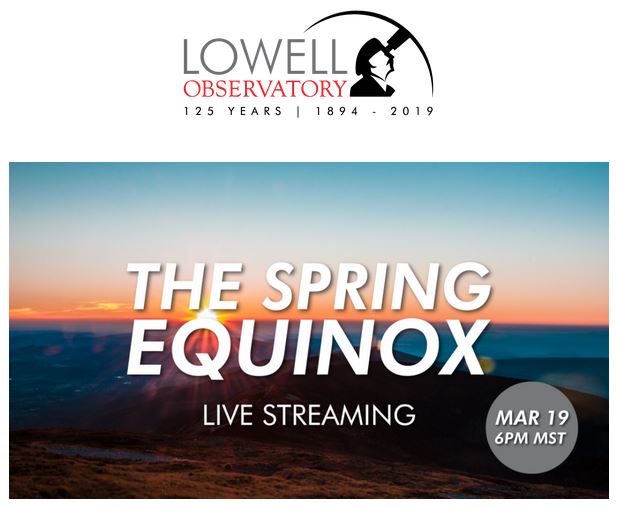 Here in Great Falls Virginia on the day of the Spring Equinox, March 19th, it's a rainy day. Perhaps that helps us want to stay inside with all of the travel and meetings restrictions imposed because of the Covid-19 virus. However, astronomical events aren't deferred because of human and biological issues. Late today the sun crosses the celestial equator and heralds in Spring. You can observe this event remotely thanks to Lowell Observatory in Arizona. Lowell Observatory will begin Live Streaming the event starting at 9pm EDT. "The spring equinox in 2020 occurs on Thursday, March 19 at 8:49pm MST/PDT (3:49am GMT), when the Earth's axis is exactly perpendicular to an imaginary line drawn between the Earth and Sun. On the equinox, the Sun rises due east, and it sets due west, no matter where you are on the Earth."
https://www.youtube.com/watch?v=LqP1Md85HHs&feature=youtu.be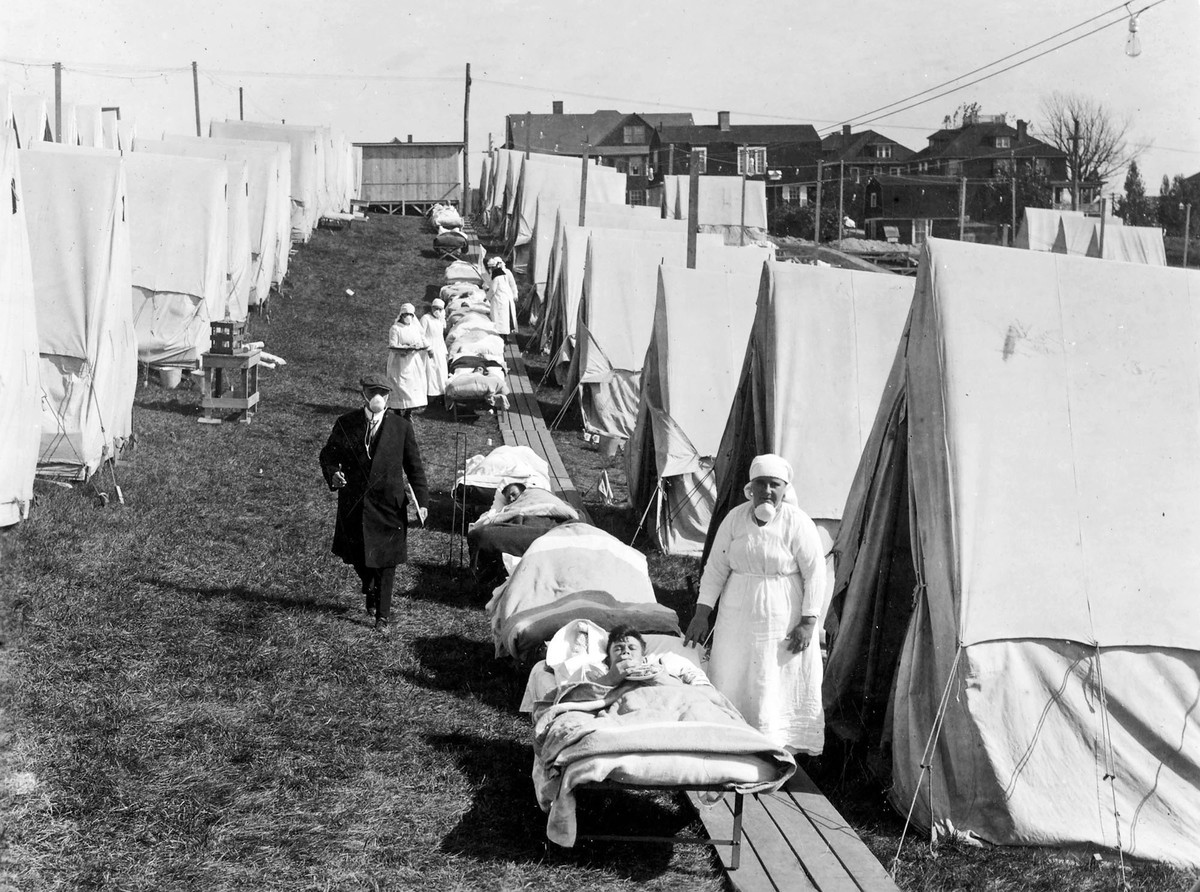 1918 Photo of Camp Brooks Open-Air Hospital Boston - Nat'l Archives
We feel the menance of the Corona Virus (Covid-19) and the imposed social isolation. Although worse than the typical annual flu, the Corona Virus pales to the worldwide pandemic of the Spanish Flu (isolated as the H1N1 virus). What does this have to do with sunlight? I am indebted to Richard Hobday's well researched article:
Here is his paragraph on "Sunlight and Influenza Infection"
"Putting infected patients out in the sun may have helped because it inactivates the influenza virus.[7] It also kills bacteria that cause lung and other infections in hospitals.[8] During the First World War, military surgeons routinely used sunlight to heal infected wounds.[9] They knew it was a disinfectant. What they didn't know is that one advantage of placing patients outside in the sun is they can synthesise vitamin D in their skin if sunlight is strong enough. This was not discovered until the 1920s. Low vitamin D levels are now linked to respiratory infections and may increase susceptibility to influenza.[10] Also, our body's biological rhythms appear to influence how we resist infections.[11] New research suggests they can alter our inflammatory response to the flu virus.[12] As with vitamin D, at the time of the 1918 pandemic, the important part played by sunlight in synchronizing these rhythms was not known."
[7] Schuit M, Gardner S, Wood S et al. The influence of simulated sunlight on the inactivation of influenza virus in aerosols. J Infect Dis 2020 Jan 14;221(3):372–378. doi: 10.1093/infdis/jiz582.
[8] Hobday RA, Dancer SJ. Roles of sunlight and natural ventilation for controlling infection: historical and current perspectives. J Hosp Infect 2013;84:271–282. doi: 10.1016/j.jhin.2013.04.011.
[9] Hobday RA. Sunlight therapy and solar architecture. Med Hist 1997 Oct;41(4):455–72. doi:10.1017/s0025727300063043.
[10]Gruber-Bzura BM. Vitamin D and influenza-prevention or therapy? Int J Mol Sci 2018 Aug 16;19(8). pii: E2419. doi: 10.3390/ijms19082419.
[11] Costantini C, Renga G, Sellitto F, et al. Microbes in the era of circadian medicine. Front Cell Infect Microbiol. 2020 Feb 5;10:30. doi: 10.3389/fcimb.2020.00030.
[12] Sengupta S, Tang SY, Devine JC et al. Circadian control of lung inflammation in influenza infection. Nat Commun 2019 Sep 11;10(1):4107. doi: 10.1038/s41467–019–11400–9.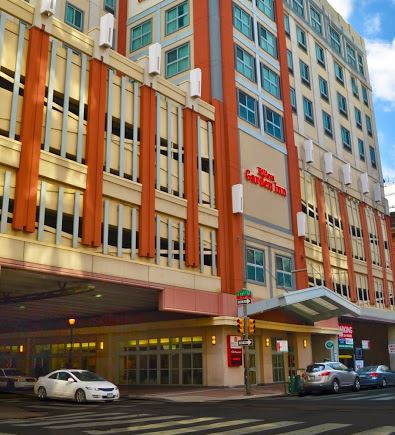 It's coming - The 26th Annual North American Sundial Conference. This year from Thursday Aug 6 unti9l Sunday Aug 9th we'll be in Philadelphia within walking distance of Indepencence Hall, The Liberty Bell, The Benjamin Franklin Museum and much more. Make your reservation at the Hilton Garden Inn, Philadelphia Center, 1100 Arch St. Details are in the attached flier.
Each year North American dialists gather to share presentations and displays of sundial projects. Why come? What people have said: "First, and foremost, I have fun! To talk about and cover my ideas on this strange area of imagination with like-minded folks is very rewarding and what a congress of interesting and kind minds! Second, there are real dials to see, admire, and analyze [during our Friday field trip] - all incised in a convenient and comparable way. And these are not the sites usually touted by the locals as meaningful. Finally, there is a local stamp of author on things that are not totally abstract. Where else can one see mathematical ideas?"
Combine your interest in sundials with an immersion in American history and join us to meet old friends, make new acquaintences, and gain gnomonic insights. Another attendee said "The presentations are a chance to brush up on my fading math abilities, inspire the possibilities of new dial creations, and learn odd quirks of history. I always leave the conference eager to start my next dialing project. The bus tour of local dials provides both beautiful dials, many in garden settings, and discusses the foibles of implementing a dial design to remain an accurate timekeeper."
Until May 1st the registration fee for full participation is 325 USD. After May 1st it will cost 350 USD. Sign up now.