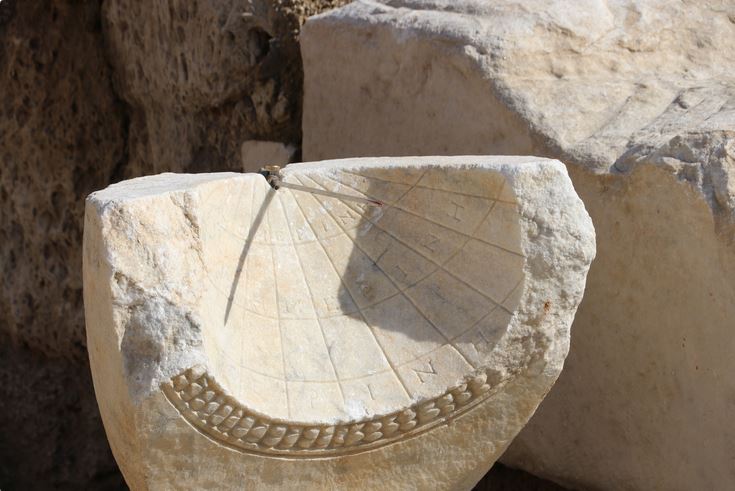 Several years ago in 2017 archaeologists found a rare hemicyclium sundial. Now another hemicyclium in excellent condition has been unearthed in Turkey's city of Denizli. Celal Şimşek, chief archaeologist at Denizli's Pamukkale University, calls it "unique". A better word is rare. Less than a hundred examples of this type of Hellenistic sundial have survived. It was found in the ancient city of Laodicea about 370 miles south of Istanbul. The sundial seems to have come from the archaeological site of one of the temples. As reported in the Daily Sabah, "Among the rare, largely preserved buildings in the city are the largest ancient stadium in Turkey, a theater and a sacred agora." The hemicyclium of pink marble has an outer edge decorated in foliage while the interior hemisphere has the traditional Greek names of the seasons. Hour lines deliniate the time. Almacantor lines show the solstices and a great circle marks the equinox. In AA Photo of the sundial at right, a needle gnomon has been restored to show how the sundial casts a shadow. Time and season are read at the gnomon shadow's tip.
Read more at: https://www.dailysabah.com/life/history/2000-year-old-sundial-unearthed-in-southern-turkeys-denizli
ADDENDUM FROM SUNDIAL DIGEST - 10 April 2020
I would like to add two arguments to the questions [of the sundial's age] under discussion:
1. Prof. Şimşek said: "On the North Parados passage in the Western Theater, which dates back to the Hellenistic Era, in the ancient city we have found a spherical sundial facing south, which we believe to be 2,020 years old.
This is a kind of conclusion which does not help by dating the dial. A comparison with similar specimens reveals that it was probably done around 200 – 400 CE.
2. "Inscribed on the dial are the Greek word 'Ksimerini', or winter on the upper part; 'Isimerini', or solstice, which denotes the equality of day and night in the middle; and 'Terini', or summer in the bottom."
I read (ΤΡΟΠH) ΧΕ(Ι)ΜΕΡΙΝH / IΣΗΜΕΡΙΝH / (ΤΡΟΠH) ΘΕΡΙΝH.
These are the names of the solstices and the equinoxes. What is conspicuous is the missing of I in χειμερινή (it should be written with diacritic signs). That is another strong argument that it was done in the Roman era.
With best wishes
Karlheinz Schaldach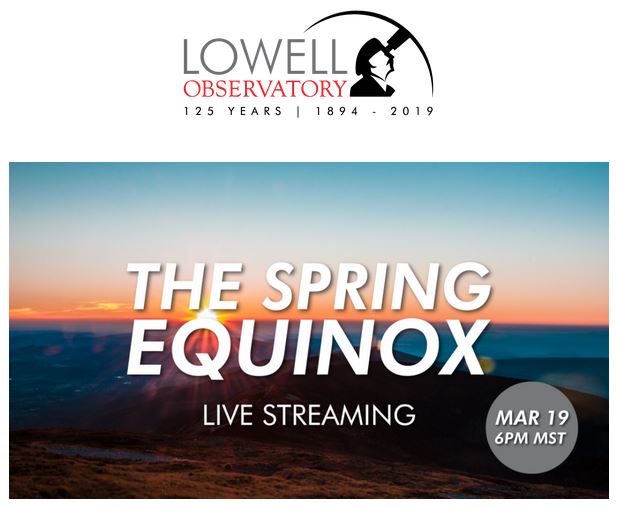 Here in Great Falls Virginia on the day of the Spring Equinox, March 19th, it's a rainy day. Perhaps that helps us want to stay inside with all of the travel and meetings restrictions imposed because of the Covid-19 virus. However, astronomical events aren't deferred because of human and biological issues. Late today the sun crosses the celestial equator and heralds in Spring. You can observe this event remotely thanks to Lowell Observatory in Arizona. Lowell Observatory will begin Live Streaming the event starting at 9pm EDT. "The spring equinox in 2020 occurs on Thursday, March 19 at 8:49pm MST/PDT (3:49am GMT), when the Earth's axis is exactly perpendicular to an imaginary line drawn between the Earth and Sun. On the equinox, the Sun rises due east, and it sets due west, no matter where you are on the Earth."
https://www.youtube.com/watch?v=LqP1Md85HHs&feature=youtu.be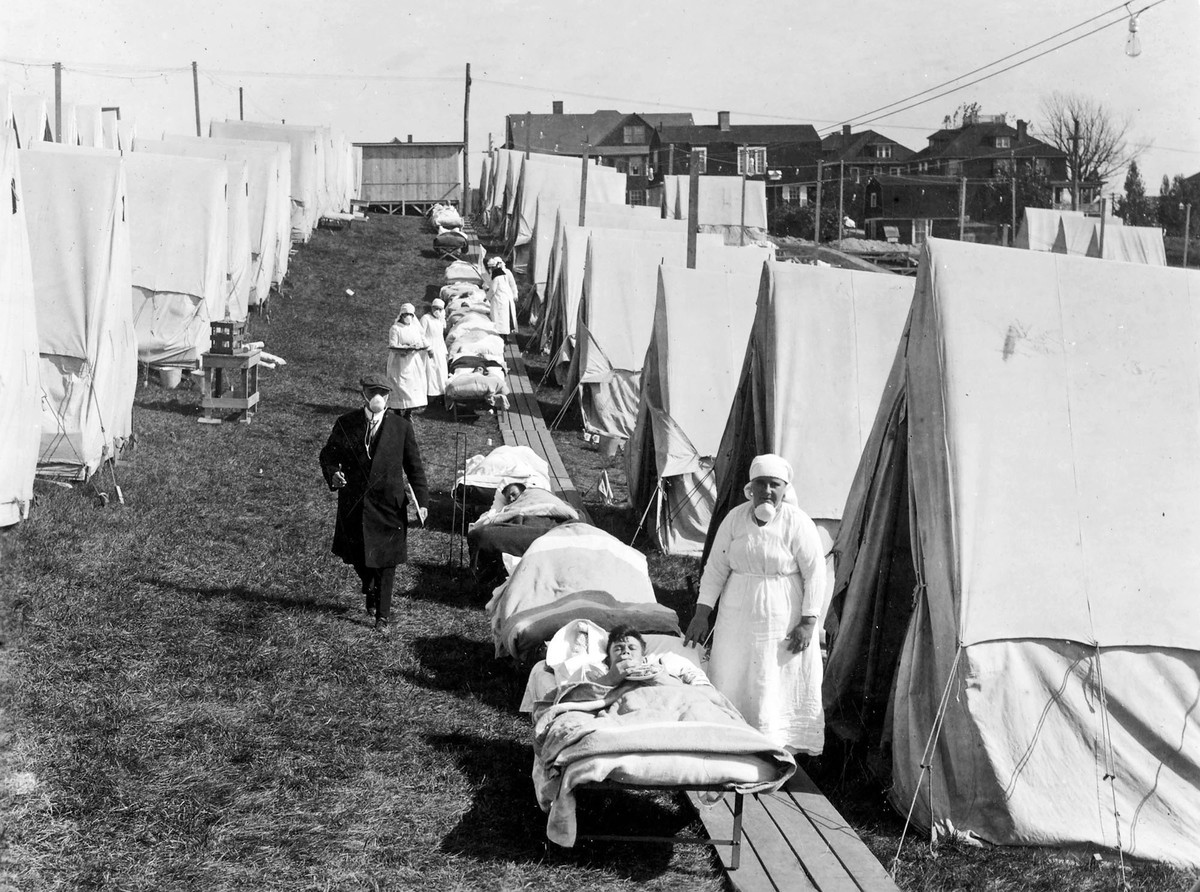 1918 Photo of Camp Brooks Open-Air Hospital Boston - Nat'l Archives
We feel the menance of the Corona Virus (Covid-19) and the imposed social isolation. Although worse than the typical annual flu, the Corona Virus pales to the worldwide pandemic of the Spanish Flu (isolated as the H1N1 virus). What does this have to do with sunlight? I am indebted to Richard Hobday's well researched article:
Here is his paragraph on "Sunlight and Influenza Infection"
"Putting infected patients out in the sun may have helped because it inactivates the influenza virus.[7] It also kills bacteria that cause lung and other infections in hospitals.[8] During the First World War, military surgeons routinely used sunlight to heal infected wounds.[9] They knew it was a disinfectant. What they didn't know is that one advantage of placing patients outside in the sun is they can synthesise vitamin D in their skin if sunlight is strong enough. This was not discovered until the 1920s. Low vitamin D levels are now linked to respiratory infections and may increase susceptibility to influenza.[10] Also, our body's biological rhythms appear to influence how we resist infections.[11] New research suggests they can alter our inflammatory response to the flu virus.[12] As with vitamin D, at the time of the 1918 pandemic, the important part played by sunlight in synchronizing these rhythms was not known."
[7] Schuit M, Gardner S, Wood S et al. The influence of simulated sunlight on the inactivation of influenza virus in aerosols. J Infect Dis 2020 Jan 14;221(3):372–378. doi: 10.1093/infdis/jiz582.
[8] Hobday RA, Dancer SJ. Roles of sunlight and natural ventilation for controlling infection: historical and current perspectives. J Hosp Infect 2013;84:271–282. doi: 10.1016/j.jhin.2013.04.011.
[9] Hobday RA. Sunlight therapy and solar architecture. Med Hist 1997 Oct;41(4):455–72. doi:10.1017/s0025727300063043.
[10]Gruber-Bzura BM. Vitamin D and influenza-prevention or therapy? Int J Mol Sci 2018 Aug 16;19(8). pii: E2419. doi: 10.3390/ijms19082419.
[11] Costantini C, Renga G, Sellitto F, et al. Microbes in the era of circadian medicine. Front Cell Infect Microbiol. 2020 Feb 5;10:30. doi: 10.3389/fcimb.2020.00030.
[12] Sengupta S, Tang SY, Devine JC et al. Circadian control of lung inflammation in influenza infection. Nat Commun 2019 Sep 11;10(1):4107. doi: 10.1038/s41467–019–11400–9.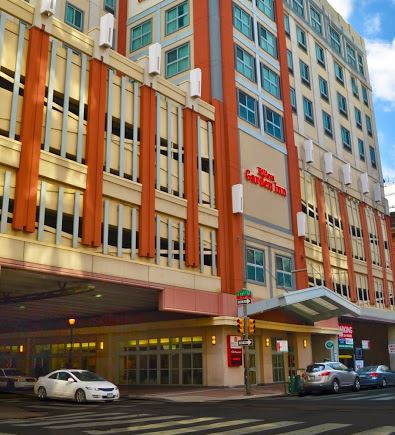 It's coming - The 26th Annual North American Sundial Conference. This year from Thursday Aug 6 unti9l Sunday Aug 9th we'll be in Philadelphia within walking distance of Indepencence Hall, The Liberty Bell, The Benjamin Franklin Museum and much more. Make your reservation at the Hilton Garden Inn, Philadelphia Center, 1100 Arch St. Details are in the attached flier.
Each year North American dialists gather to share presentations and displays of sundial projects. Why come? What people have said: "First, and foremost, I have fun! To talk about and cover my ideas on this strange area of imagination with like-minded folks is very rewarding and what a congress of interesting and kind minds! Second, there are real dials to see, admire, and analyze [during our Friday field trip] - all incised in a convenient and comparable way. And these are not the sites usually touted by the locals as meaningful. Finally, there is a local stamp of author on things that are not totally abstract. Where else can one see mathematical ideas?"
Combine your interest in sundials with an immersion in American history and join us to meet old friends, make new acquaintences, and gain gnomonic insights. Another attendee said "The presentations are a chance to brush up on my fading math abilities, inspire the possibilities of new dial creations, and learn odd quirks of history. I always leave the conference eager to start my next dialing project. The bus tour of local dials provides both beautiful dials, many in garden settings, and discusses the foibles of implementing a dial design to remain an accurate timekeeper."
Until May 1st the registration fee for full participation is 325 USD. After May 1st it will cost 350 USD. Sign up now.
We've reported on ancient mosaics from Turkey showing sundials (Antioch Mosaic Sundial - 2016). Now from the Ministry of Sciences and Higher Education in Poland ( Archaeology News - Ancient Sundial and Science in Poland ) another ancient mosaic sundial has been discovered:
Sundial in the Madaba Map, a great mosaic located in Jordan. The sundial is located next to the gate on the left. Credit Wikipedia/public domain.

Professor Marek T. Olszewski from the University of Warsaw was re-examining a number of mosaics dating back to the 2nd century AD when he made his startling discovery.

One of the mosaics from the 6th century AD which was discovered by the Gate of Damascus in Jerusalem, Olszewski noticed that between a richly dressed women, a mysterious object is visible, which scientists at the beginning of the 20th century described as an oil lamp or column.

Olszewski said: "After careful analysis and comparison with a sundial discovered during excavations, I came to the conclusion that this mosaic and other ones similar to it depict sundials....

Another sundial "tracked" by the Polish researcher is located in a wall mosaic in Santa Cecilia in Trastevere church in Rome. This mosaic was created during the time of Pope Paschal I (817-824).

Prof. Olszewski also noticed a previously unknown sundial in the Madaba Map - a huge floor mosaic, which is currently stored in the church of St. George in Madaba, Jordan. It shows a map of the Middle East from the Byzantine period. This is the oldest cartographic depiction of the Holy Land, including Jerusalem and dates back to the 6th century AD.

Yet another depiction of a sundial comes from Tarsus (Mersin) in Turkey, where a figural mosaic (ca. 2nd-3rd century AD) shows a sundial on a column and a crow sitting on it. A man tries to scare off the bird by throwing a pouch at it (crow was a symbol of a bad omen).

Professor Olszewski has now discovered eight previously unknown sundials in the designs, taking the total number known to 15.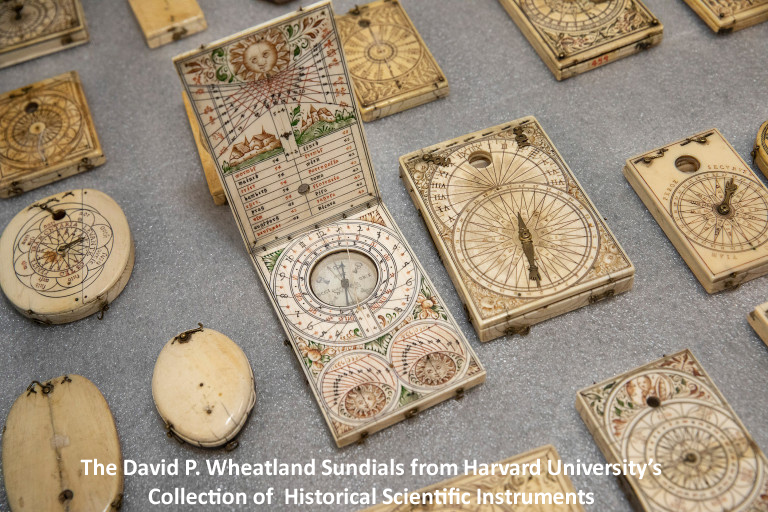 From the Harvard Gazette - Dec 9, 2019 : "Since 1672 Harvard University has been acquiring scientific instruments for teaching and research. In 1948 the Collection of Historical Scientific Instruments was established...[and has] grown to more than 20,000 objects making it one of the three largest university collections of its kind in the world"
As an illustration of the collection is a photograph of ivory pocket sundials shown here, made in Nuremberg, Germany between 1575 and 1645. These elegant diptych sundials represented the 16th and 17th century equivalent of pocket watches, especially for wealthy traveling merchants to keep track of time. "Harvard has the largest collection of sundials in North America, a gift of David P. Wheatland, Class of 1922."
As described by Dr. Sara Schechner in Time of Our Lives - Sundials of the Adler Planetarium who is the David P. Wheatland Curator of Historical Instruments at Harvard describes the diptych as "fashioned from ivory, gilt brass, carved wood, and wood covered by printed paper. The materials offer hints on the social status of their owners. So too do common and novel accessories found on the instruments. A directory of cities and their latitudes suggests an owner who traveled... The association is stronger when the diptych combines a gazetteer with particular sundials that found the time according to the sundry conventions of England, France, Germany, and Italy. A merchant crossing a border would have needed to know how to set up an appointment with his clients. How many hours would there be to transact business or to journey along the road? Calendrical devices on the diptych showed him the length of the day and night throughout the year...[and] the diptych's lunar volvelle gave ...the moon's phase. It also assisted the owner in finding the time by moonlight...[And] a diptych with a magnetic compass [allowed proper and immediate orienting the sundial]."
Read more at: https://news.harvard.edu/gazette/story/2019/12/collection-of-historical-scientific-instruments-continues-to-amaze/

Look for the new menu tab:3D Printing Tips. Starting this December (2019) NASS begins a series of tutorials using OpenSCAD and other software for designing and printing 3D objects. As you might guess, we'll focus on creating sundials and other shadow casting objects. Download your copy of OpenSCAD at http://www.openscad.org and join our tutorials. If you want even more detail on 3D sundials, join NASS and receive The Compendium with Bill Gottesman, Steve Lelievre, Bob Kellogg and others writing in the regular column "3D Design and Printing Sundials."
Whether it be Delhi or Las Vegas, artist Daku brings shadows to life, creating words that slowing change their shape but never lose their meaning through the course of the day. As reported by mymodernmet.com, "As part of the St.Art festival, which curates public art in Delhi's Lodhi district, Daku's carefully realized [shadow] installation demonstrates the power of words. The artist, whose name means 'bandit' in Hindi, had been thinking about executing this project for several years when finally given the opportunity by the festival." The anonymous artist Daku told CNN, "I had to decide the size of the letters, the length of the pieces, and the angle I could place them in so pedestrians could easily see it." mymodernmet.com concluded "The artist carefully selected which words to include—balance, order, reflection, future, seasons, space—each a reflection on movement, time, and change. Reaching its apex at mid-day, the letters slowly blur and dissolve, put to rest each evening before beginning anew."

The making of shadow writing in Las Vegas by Daku
Daku's cut-out words on the south facing walls of buildings is a clever implementation of sundial and involves a lot of subtle mathematics. Daku's lettering is placed on the wall horizontal to the ground, usually with very little change in the scale of the lettering. Mathematically the noonday lettering on the wall is lengthened by the tangent of the latitude plus solar declination. But the visible size of the lettering is foreshortened by the cosine of the upward look angle of the pedestrian on the ground.
Read more at: Daku's installation in Las Vegas and Daku's installation in Delhi