Details

Hits: 7540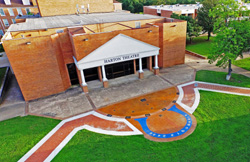 The large analemmatic sundial in front of the Harton Theater North Entrance of Southern Arkansas University (SAU) is being formally dedicated on Thursday, November 5th, 2016 in memory of the late David Thomas Smith, a 1957 SAU alum and retired assistant director of the SAU Physical Plant.
The Smith Sundial, funded by family and friends of David Smith was built by the SAU Department of Art and Design and engineers of the SAU Physical Plant. Patrick Finney was the construction supervisor and Steven Ochs was the project concrete art designer and craftsman. As described in the NASS Sundial Registry, Dial #800 is "a 22 by 17 foot analemmatic dial of stained concrete with Arabic hour numerals of polished brass. The dial perimeter and hour numerals are set in a blue decorative polymer "U" arc, appearing as a large mule shoe that represents the university Muleriders mascot symbol. Dial colors represent the royal blue and gold school colors."
As reported by Southern Arkansas University, "The Smith Sundial at SAU is one of only four Arkansas sundials that are registered on the North American Sundial Society, and the only one outside of Little Rock and North Little Rock. It is also the only sundial in the state that is [a monumental] analemmatic..."
Read more at: https://web.saumag.edu/news/2015/10/28/sau-to-dedicate-smith-sundial-on-nov-5/
Details

Hits: 7733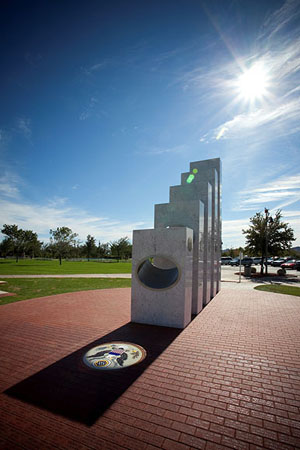 Anthem Veterans Memorial
Sun Alignment on Nov 11th
[photo: Anthem Veterans Memorial Committee and Mike Spinelli]
The Anthem Veterans Memorial in Anthem, AZ was dedicated on November 11, 2011 at 11am (11-11-11 11:11:11) to honor the service and sacrifice of the United States armed forces and to provide a place of honor and reflection for veterans, their family and friends. Veterans gather here annually on November 11th to watch a solar alignment at 11:11am when the sun precisely illuminates The Great Seal of the United States. The memorial was designed by Renee Palmer-Jones, and constructed under the guidance of Project Engineer Jim Martin and construction expert Steve Rusch.
Details

Hits: 6946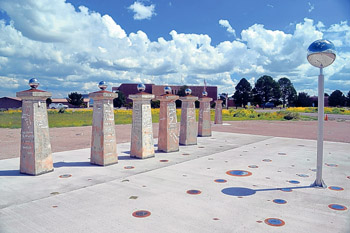 Bracewell Memorial Sundial at VLA
Photo Credit: NRAO/AUI/NSF
In 1961 Professor Ronald Bracewell at Stanford University created an X shaped array (called a "Chris-Cross array" for W.R. "Chris" Christiansen) using 32 10-foot diameter dish antennas to form a radio spectroheliograph nestled in the hills of Palo Alto, California.
Details

Hits: 7463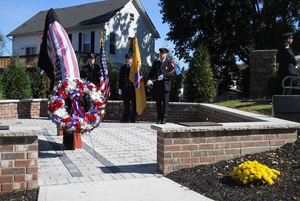 Tom Carpenter, a member of the Hampton fire company for 44 years, presented plans for a 9/11 memorial to the Borough Council at the beginning of 2012 and Councilman James Cregar began designing the memorial as a sundial using beams recovered from Ground Zero of the Twin Towers.
Details

Hits: 7407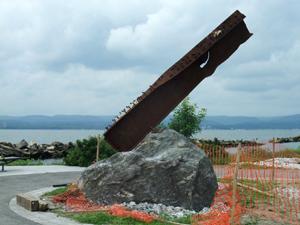 On September 11, 2012 the Town of Cortlandt and the Villages of Buchanan and Croton-on-Hudson in New York will dedicate a giant sundial as part of a 9-11 memorial using steel salvaged from the World Trade Center site. All are welcome to the dedication.
Visitors attending the dedication of the Buchanan*Cortlandt*Croton-on-Hudson (BCC) 9-11 Remembrance Memorial are asked to assemble at 2:30 pm at the Croton Landing parking lot and walk the 1/2 mile to the memorial site for the 3 o'clock ceremony. A van will be available for those who wish to ride. For further information, please call the Project Director, Janet Mainiero at 914-271-8222.
Read more: 9-11 Memorial Sundial Dedicated at Croton Landing
Select Sundials by State/Province
Copyright © 1995-2022-2022 North American Sundial Society - All Rights Reserved